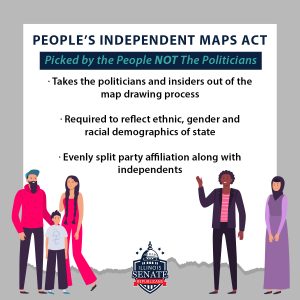 Springfield, IL—While session isn't scheduled to resume until April 13, Republican lawmakers continued to raise their concerns about Illinois' legislative map drawing process during remote redistricting hearings held throughout the week.
In other news, Senate Republicans are reminding motorists to move over for emergency vehicles as instances of Scott's Law violations increase.
Meanwhile, after weeks of continued calls from Republican lawmakers to improve vaccination access, Illinois is finally seeing significant progress being made to vaccinate the public. Also this week, Senate Republican are continuing their "Preposterous Proposals" series, highlighting some of the more questionable legislation proposed in the General Assembly.
Redistricting committee hearings continue to receive criticism
The Senate's Redistricting Committees continued hearings this week, seeking input from the public on how to best draw a new legislative map.
Despite decennial census data not expected to be released until mid-August, Senate Democrats seem to be forging ahead with the map-making process using the much less accurate American Community Survey (ACS) data, which is a sampling of the population. Use of this data has the potential to disenfranchise voters and communities of color that have changed over the past ten years. State Senator XX says this would be like basing election results on poll numbers rather than counting the votes.
As hearings continue next week, Senate Republicans continue to advocate for their legislation, the People's Independent Maps Act (Senate Bill 1325), which would create an independent map-making process—free of politicians.
Identical legislation has been supported by a group of bi-partisan legislators in previous years; however, not a single democrat legislator has expressed support for Senate Bill 1325.
Click here to learn more about the proposal.
Uptick in Scott's Law crashes cause concerns
With crash totals on the rise, Senate Republicans are urging drivers to slow down and move over for stopped emergency vehicles.
Scott's Law, known as the state's Move Over Law, is designed to protect law enforcement and emergency responders who are stopped along the side of roadways. However, Illinois State Police are warning that violations against this safety law are increasing at an alarming rate.
According to the Illinois State Police, Scott's Law crashes are significantly up from this time last year, with 12 crashes reported so far in 2021. At this time last year, two crashes had been reported.
To address the uptick in crash occurrences, new legislation has been filed in the Senate to increase the penalty for Scott's Law violators. Senate Bill 1913, which was unanimously passed out of the Senate Criminal Law Committee on March 24, would give judges the authority to mandate community service hours to violators of the Move Over Law.
Senate Republicans are reminding drivers that Scott's Law is in place to keep both law enforcement and Illinois drivers safe.
Illinois Surpasses 6.5 Million Vaccinations
The state is finally making significant progress in its efforts to vaccinate the public against COVID-19. More than 6.5 million doses have now been administered in the Land of Lincoln, out of just over 8.4 million that were allocated, according to the Illinois Department of Public Health (IDPH). The 7-day rolling average for daily vaccinations is hovering right around 107,000.
More than 84 counties have now opened their vaccination programs to include everyone 16 years of age and older. On April 12th, all remaining counties (excluding Chicago) will be open expand to 16 and up.
So far since the pandemic began, IDPH has tracked a total of just over 1.2 million cases of coronavirus, with more than 21,000 deaths.
To schedule an appointment to receive a COVID-19 vaccination, please visit: https://coronavirus.illinois.gov/s/vaccination-location
Preposterous Proposals at the Capitol
Thousands of new bills are filed every year by lawmakers in Springfield. Some of them feature popular, widely accepted ideas to make the state better, while others seem a little more out of left field. Every week the Illinois Senate Republican caucus is highlighting a few of the bills that are outlandish, not very well thought out, or just plain bad for the people of Illinois.
This week we take a look at:
Senate Bill 1915, which would ban the use of plastic straws, forks, and knives at the Illinois State Fair; and
Senate Bill 655, which would take away the offense of criminal transmission of HIV.