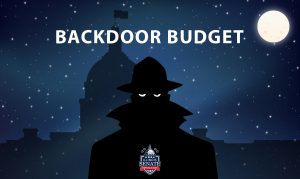 SPRINGFIELD – In typical late-night fashion, Democrat legislative leaders filed and passed a partisan budget in the early morning hours of June 1. The proposal, which is now on the Governor's desk, includes a nearly $700 million tax increase on businesses, a pay increase for lawmakers, and more than $1 billion in pork projects.
Also during the week, Senate Republicans became productive negotiators in the ethics reform package that passed the General Assembly, but say that more work is needed to root out government corruption.
Meanwhile, lawmakers left Springfield without confirming controversial appointees to the Prisoner Review Board. And, Republicans argue the new Supreme Court maps are designed to keep Democrat control of the high court.
Democrats pass reckless, pork-filled budget
State Sen. Jil Tracy (R-Quincy) says it's becoming typical for the Illinois General Assembly to rush major legislation through in the dead of night in an effort to bypass transparency. One such measure was the Fiscal Year 2022 budget, which was filed and voted on within hours, all while the public was asleep.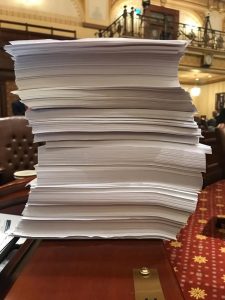 In the late hours of May 31, Democrat budgeteers filed a budget document with more than 3,000 pages, then voted on it a few minutes later in the House of Representatives. An hour later, it was brought over to the Senate, where it was taken up and passed in the early morning hours of June 1.
Tracy says she could not support the Fiscal Year 2022 state spending plan jammed through by Democrat leaders well after midnight because it spends billions on new programs while cutting hundreds of millions in jobs-creating incentives at a time when Illinois' pandemic-weary economy needs them the most.
"About a week ago, I stood with several Senate Republican colleagues expressing concern that the Governor was trying to take money away from jobs-creating programs at a time when Illinoisans need them the most. Our fiscal analysis had revealed an additional $16 billion in unanticipated tax revenues, so there was no need for tax hikes, budget cuts or a cut in jobs incentives," Tracy said. "We asked, 'Where does it end? When is it enough?' Their response? Releasing more than 3,000 pages of budget documents at 1:00 a.m. on June 1. An hour late, as if not a care in the world as to how to spend Illinois taxpayers' money and provide services to Illinois citizens. Then forcing a vote with little to no time for all lawmakers to study the details."
Tracy says Senate Republicans have tried repeatedly to work with Democrat leaders to pass a balanced budget with the business and government reforms needed to boost Illinois' economy and jobs; however, their attempts have been repeatedly rebuffed.
"Gov. Pritzker and Democrat leaders must realize that by 'going it alone,' they must also take responsibility for the state's current economic conditions. Government-imposed shutdowns have decimated our small-business community, and it's the state's job to help create a landscape for them to rebuild rather than take away much-needed jobs-creating incentives," Tracy said. "Is it any surprise that businesses continue to flee Illinois, taking thousands of jobs with them?"
While details of the partisan plan are still being reviewed, there are several glaring issues in the budget, currently on the Governor's desk.
First, it includes $666 million in tax hikes on businesses. These tax increases include the elimination of programs designed directly to grow jobs. With unemployment still high and many businesses struggling to get back to some type of normal, more jobs are desperately needed. Unfortunately, these tax hikes will likely slow jobs growth and hurt economic recovery efforts.
Democrats also managed to squeeze in plenty of pork projects for themselves, including at least 75 new pet programs within the Illinois Department of Human Services alone, plus $1 billion in capital improvement projects for Democrat lawmakers' districts. The budget also includes a pay-raise for lawmakers, despite strenuous calls from Senate Republicans to block any increase to legislators' salaries.
Despite a deficit of $10 billion to $12 billion in the unemployment trust fund—the source of unemployment checks so critical to so many during the pandemic—the Democrats only appropriated $100 million to the fund, amounting to little more than an interest payment.
The budget also failed to properly fund services for persons with developmental disabilities. Funding for those programs is the subject of an ongoing lawsuit and consent decree. The Democrats' budget only provides the estimated amount needed for half of a year.
There were some positive notes, however. Thanks to pushback from Senate Republicans, funding for local governments and mass transit districts was left intact. The budget also fully funds the evidence-based formula for K-12 schools, ignoring Gov. J.B. Pritzker's original proposed plan to underfund schools.
Senate Republicans help strengthen ethics laws, want more reform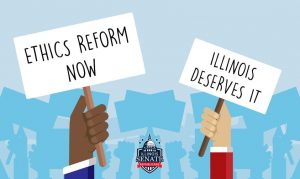 On May 31, the General Assembly approved a package of reforms that address some of Illinois' most glaring ethical problems.
Tracy serves as the Chairman for the Senate Ethics Commission, and is a member of the Senate Ethics Committee.
"One of the major issues our Caucus was focused on fixing this session was government corruption," said Tracy "While ethics reform got off to a rocky start, we are happy to stand here today knowing that we took a major first step in rooting out the corruption that plagues this building."
Tracy says the package that was sent to the Governor will hold elected officials to a higher ethical standard by empowering the Legislative Inspector General (LIG) to independently investigate allegations of political corruption without first having to obtain permission to investigate from a panel of sitting lawmakers.
The package also:
Reforms and strengthens the statement of economic interest disclosures by adding new disclosure requirements for legislators and their spouses, including disclosure of debts;
Requires consultants to register and for lobbyists to disclose any contractual relationship with a consultant for the purpose of influencing the legislature; and
Prohibits fundraisers across Illinois on session days or the day before or after a session day.
Despite the good measures found in the proposal, Tracy noted that it is just the first step to rooting out corruption and the Caucus will continue to advocate for giving the Attorney General powers to use a statewide grand jury to investigate, indict, and prosecute public corruption crimes so that Illinois doesn't have to wait on the federal government to investigate.
Additionally, Republicans continue to advocate for a stronger legislator-to-lobbyist revolving door prohibition so that sitting legislators cannot resign and become a lobbyist the next day.
The reform package is found in Senate Bill 539, which has been sent to the Governor to sign.
Democrat leaders fail to take up controversial appointments
After weeks of requests by members of the Senate Republican Caucus, the Senate Executive Appointments Committee failed to take up the 10 pending Pritzker appointees to the Prisoner Review Board, who are actively serving and making controversial parole decisions.
Between March 2019 and April 2019, Gov. Pritzker appointed four individuals to the Prisoner Review Board, which is a body that determines if convicted felons should be released from prison. The Illinois Constitution requires that these appointees be confirmed by the Senate within 60 session days. In March 2021, the clock was approaching the 60 session days and the Senate had failed to take up their confirmation.
Rather than the Senate taking a vote on these individuals, Gov. Pritzker withdrew their appointments and reappointed them just days later, which reset the 60-day clock. Therefore, these four appointees have been serving for more than two years and continue to make potentially dangerous decisions, all while Democrat Senate leaders continue to provide the Governor cover by not forcing them to testify in front of the Senate Executive Appointments Committee and failing to vote on their confirmation.
Additionally, Gov. Pritzker has appointed another six appointees to the Prisoner Review Board between February 2021 to May 2021, none of which have been confirmed either. This makes a total of 10 unconfirmed appointees who are currently serving on the 14-member Prisoner Review Board without ever being approved by the Senate.
Attempts to hijack Illinois Supreme Court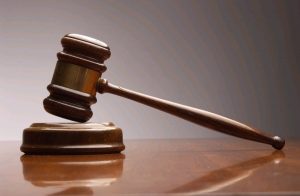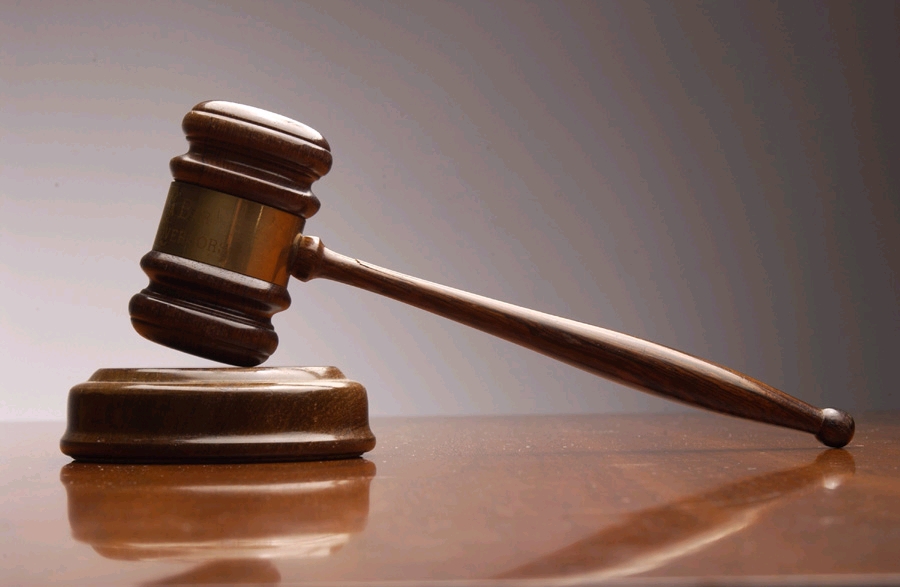 Majority Party leaders managed to ram through and pass new Illinois Supreme Court districts, despite not doing so for about 60 years, and despite the Illinois Constitution not requiring it. Their excuse for doing so is to address population disparity; however, these new districts still include a population disparity of more than 200,000 people.
Senate Republicans argue that the remap is a direct result of the Democratic Party being fearful of losing their partisan influence in the higher court. This fear comes from last November when Thomas Kilbride, a Democrat justice from the Third Supreme Court District, lost his vote for retention. This was the first time that an Illinois Supreme Court justice had lost a retention election since the process was created in 1964.
This retention failure now threatens the Democrats' 4-3 advantage on the Illinois Supreme Court. Tracy says Democrats fear a Republican could win that seat in the next election, so they are redrawing the districts to ensure that their party controls the Court for years to come.