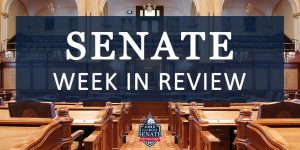 SPRINGFIELD – The General Assembly returned to the Capitol June 15 to take action on key bills that did not clear both chambers prior to adjournment on May 31-June 1. Senate Republicans were expecting to vote on an omnibus energy bill, but were sent home when bill negotiations reached yet another impasse, according to State Sen. Jil Tracy (R-Quincy).
Senate Republicans also learned this week that the budget, as passed and sent to the Governor, included significant drafting errors, including the absence of effective dates for key budget allocations. Democrat leaders tried to downplay the blunder, and had to rely on an amendatory veto by Gov. JB Pritzker to address mistakes that occurred when the budget was rushed through a non-transparent process.
Across the Rotunda, the House took action on a FOID bill, which had already passed the Senate, which allows for optional fingerprinting.
And the Capitol Complex, which has been closed to visitors since March 2020, will finally reopen to the public on June 21.
Omnibus energy bill stalls again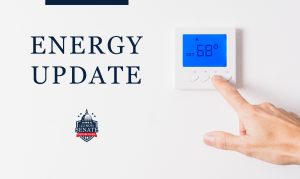 When Senate President Don Harmon called Senators back to the Capitol for a one-day session on June 15, Senate Republicans were told to expect a vote on an omnibus energy bill that would eliminate coal-powered energy by 2035 and natural gas by 2045. In addition to closing the Prairie State Energy Campus and Springfield's City Water, Light and Power facility before the ends of their useful lives, the legislation included another massive bailout for scandal-ridden Exelon/ComEd, which has repeatedly threatened to close nuclear energy plants if the State did not provide significant financial support.
After waiting all day for a negotiated bill to be filed and heard, the Senate abruptly adjourned shortly before 6:00 p.m. after learning that no deal had been reached.
Tracy says she and her colleagues favor a cleaner energy future for Illinois, but believe environmental benchmarks must be balanced with what is best for ratepayers and the labor force.
Over the weekend leading up to the anticipated energy vote, a bipartisan group of 18 Senators, including Tracy, and 34 members of the House sent a letter to Gov. Pritzker, urging him not to close the Prairie State Energy Campus and Springfield's City Water Light and Power facility. A similar letter signed by multiple labor groups was also sent to the Governor, and on June 14 the Illinois Manufacturing Association and the Illinois Retail Merchants Association chimed in with their opposition.
Negotiations are ongoing, and legislators expect to return to Springfield for at least one more day later this summer.
Sloppy FY 2022 budget requires legislative fix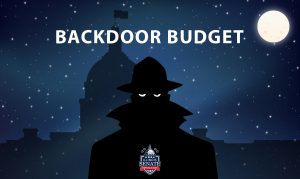 During the overnight hours of May 31-June 1, Democrat legislative leaders rammed through a nearly 4,000-page budget that guides spending for the fiscal year that begins July 1, 2021. No committee hearing was held, and legislators were not provided with an adequate amount of time to read and understand the document.
As approved and sent to the Governor, the Fiscal Year (FY) 2022 budget had several drafting errors including the absence of many key effective dates. Without the effective dates, 85 percent of General Fund money could not be spent by State agencies until June of 2022, 11 months into the fiscal year. It was a sloppy mistake, and one that could have been avoided if there was transparency within the budget process and if ample time had been provided for a thorough review of the lengthy document.
The budget fix required an amendatory veto by the Governor. While fixing the multiple drafting errors, the Governor could have used his veto pen to strike out the line item for legislative pay raises. Senate Republicans urged the Governor to do the right thing and remove legislative pay raises, but their request was ignored and the Governor kept the raises in the budget. Gov. Pritzker had an opportunity to right a wrong, but instead chose to go along with giving senators and state representatives an undeserved raise for FY 2022.
'Fix' the FOID legislation clears General Assembly, includes optional fingerprinting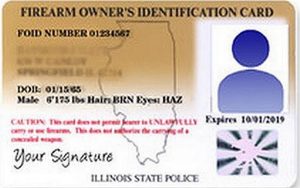 The House of Representatives took up a measure this week that had already passed the Senate on May 31, which would allow for individuals to voluntarily offer their fingerprints in exchange for a more automatic renewal of their FOID cards and CCL licenses. Approved by the House on June 15, the bill now heads to the Governor.
Tracy says House Bill 562 is simply a gateway bill to mandating fingerprints and just another effort by the majority to target Illinoisans' Second Amendment rights.
House Bill 562, as passed by both chambers, does the following:
Encourages but does not require fingerprinting. Those who agree to fingerprinting are granted a streamlined process for renewal of FOID cards and CCL licenses.
Requires person to person firearms transfers to be subject to NICS at a federal licensed firearms dealer or through online validation by Illinois State Police using NICS.
Requires seller to provide a record of a private transfer of a firearm to an FFL within 10 days of sale. Caps the fee that the FFL may charge at no more than $25. Requires FFLs to keep the record of transfer for 20 years. On the demand of a peace officer, transferees have to identify the FFL dealer maintaining the transfer record (penalty is a Class A misdemeanor).
Requires Illinois State Police to establish a public database of all firearms that have been reported stolen to be checked prior to the transfer of any firearm to prevent the inadvertent transfer of stolen firearms.
Tasks the Violent Crime Intelligence Task Force to conduct enforcement operations against those with revoked FOID Cards.
Capitol Complex to reopen to visitors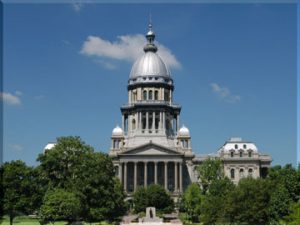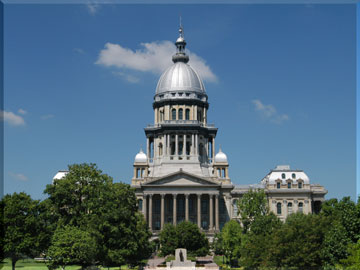 Because of government-ordered closures relating to the COVID-19 pandemic, the Springfield Capitol has been closed to visitors since March 2020.
Even when lawmakers returned to conduct business beginning in January of this year, residents were kept out of the building to help prevent the spread of the virus.
The Capitol and its accessory buildings will finally reopen to visitors on June 21.