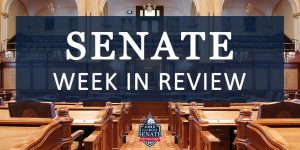 SPRINGFIELD – Senate Republicans continue their calls for all state offices to reopen, as critical services like those provided by the Illinois Department of Employment Security continue to suffer from prolonged closures.
In other news, the Illinois Legislative Inspector General issued a letter announcing her intended resignation, underscoring the need to pass meaningful ethics reforms in state government.
Meanwhile, hearings have begun in the case of McConchie v. Illinois, the lawsuit filed by the Senate Republican Leader to challenge the use of inaccurate American Community Survey (ACS) data to draw partisan-drawn legislative maps.
Also during the week, young entrepreneurs and generational farmers get more protection under recently signed legislation, and Amtrak operations are set to resume full operations beginning July 19.
Republicans push for state offices to resume operations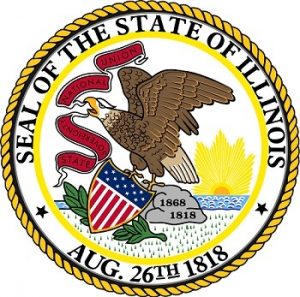 State Sen. Jil Tracy (R-Quincy) says all state agencies should reopen as their prolonged closure is frustrating and adds unnecessary barriers to Illinoisans receiving critical services.
While some state offices, such as the Secretary of State, have resumed full operations, others such as the Illinois Department of Employment Security (IDES) remains closed despite the state officially moving into Phase 5 of the Governor's reopening plan.
IDES, which handles issues with unemployment benefits for employees throughout Illinois, has been closed for almost 500 days and continues to be criticized for fraud issues, a slow response time, and the backlog of unaddressed claims.
With the private sector back open for business, Tracy says there is no excuse for state offices to not be fully open and operational.
Legislative Inspector General announces resignation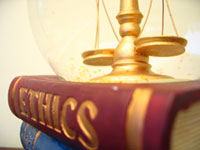 Citing a lack of "true ethics reform," Legislative Inspector General (LIG) Carol Pope offered her resignation to members of the Legislative Ethics Commission on July 14.
Senate Republicans, who have been vocal about the ongoing issues of corruption and misconduct within state government, noted that this is just further evidence of the need to pass substantive ethics reforms in the legislature.
Tracy, who is Chairwoman of the Legislative Ethics Commission, said Pope has worked diligently to pass meaningful ethics reform with many successes, despite the fact that her push for significant reforms has been blocked many times by Majority legislative leaders.
"As Chair of the LEC, I know the toll public corruption has taken on Illinois' resources and residents," said Tracy. "This Legislative Inspector General has done an outstanding job and we thank her for her commitment to better government. Our Caucus has long supported her efforts. It is unfortunate that the Majority legislative leaders did not make better use of her skills and her willingness to make some much-needed changes that would benefit ALL lawmakers. Ethics reform in Illinois has long been an ongoing challenge."
Earlier this year, lawmakers came together in a bipartisan effort to pass an ethics reform package that included a component to empower the LIG to investigate corruption allegations. Tracy said that this was a good step forward to begin addressing the ongoing ethical concerns in state government, but much remains to be done to ensure elected officials are held accountable for their actions and to address the longstanding history of legislator misconduct.
Senate Republican lawmakers sponsored several additional reforms proposed by the LIG that were never called before the Ethics Committee for a hearing.
LIG Pope offered her resignation immediately, until a replacement is chosen, or until her term ends in December.
McConchie v. Illinois is underway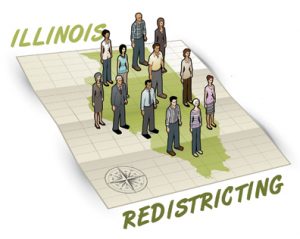 Preliminary hearings in the case of McConchie v. Illinois have begun. Filed by Senate Republican Leader Dan McConchie to challenge the partisan legislative maps signed into law earlier this year, the lawsuit had its first hearing on July 14.
Filed against House Speaker Emanuel "Chris" Welch, Senate President Don Harmon, the offices of the Speaker of the House and the Senate President, and the Illinois State Board of Elections and its members, the lawsuit argues that the American Community Survey (ACS) data used to draw the legislative maps violates federal law.
During redistricting hearings earlier this year, Republican lawmakers argued that the use of such inaccurate and outdated data would undercount minority, rural and growing communities throughout Illinois. Despite their requests to Democrat lawmakers urging them to wait for more accurate Census data to draw legislative borders, Majority party leaders pushed through partisan maps before the conclusion of spring legislative session. On June 4, Gov. JB Pritzker broke his campaign promise and signed the gerrymandered legislative maps into law.
Republican lawmakers maintain, however, that ACS data violates the "one-person, one-vote" principles of the U.S. Constitution, making the maps unconstitutional.
Tracy says she is optimistic that the courts will agree to overturn the maps and allow for them to be drawn using accurate and comprehensive Census data.
Legislation helps generational farmers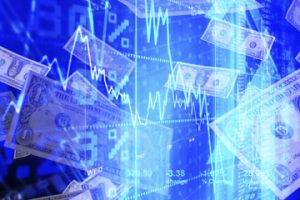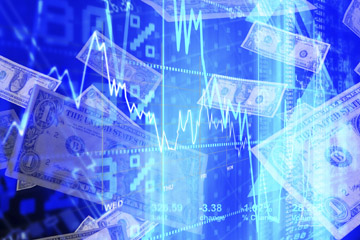 Recently signed legislation, which received bipartisan support in the General Assembly, will help farms and other family businesses navigate the often complicated process of estate planning.
Senate Bill 47 expands the use of the TODI (Transfer on Death Instrument), which allows for ownership of property to transfer upon the death of the owner.
Under current Illinois law, the use of a TODI is only allowed for residential real estate including at least one residential dwelling, but no more than four dwellings, and containing 40 acres or less of farm ground.
Senate Bill 47, however, allows a TODI to be used for all real estate, including farm ground. The legislation was proposed as a way to help farmers who frequently face challenges when it comes to passing on their operations to the next generation.
Senate Bill 47 was signed into law on July 9.
Sweet victory for young entrepreneurs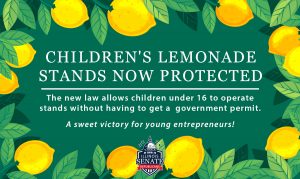 Legislation that aims to protect young entrepreneurs was recently signed into law.
Commonly known as Hayli's Law, Senate Bill 119 will give children the freedom to operate lemonade stands without having to obtain a permit or license from local health departments.
The legislation was in response to a report of an 11-year-old child in Illinois whose lemonade stand was shut down by the local city and county health department.
Now, under Hayli's Law, the Illinois Department of Public Health or local health departments or districts are prohibited from regulating lemonade or nonalcoholic drink stands operated by a person younger than 16.
Passed unanimously by the General Assembly earlier this year, Senate Bill 119 was signed into law on July 9.
Amtrak resumes full services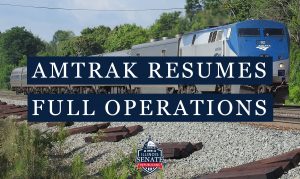 The Illinois Department of Transportation (IDOT) has announced that Amtrak trains will resume full operations beginning July 19.
At the onset of the pandemic, IDOT reduced train services by half. However, beginning July 19, Amtrak will resume a full schedule of five daily roundtrips between Chicago and St. Louis, two between Chicago and Quincy, and three between Chicago and Carbondale.
The following services will be restored beginning July 19:
Lincoln Service, between Chicago and St. Louis, with intermediate stops such as Normal and Springfield
Carl Sandburg/Illinois Zephyr, between Chicago and Quincy, with intermediate stops such as Macomb
Illini/Saluki Line, between Chicago and Carbondale, with intermediate stops such as Champaign