SPRINGFIELD – Gov. JB Pritzker continued his go-it-alone approach to governing the state this week by announcing new mask and vaccination mandates — changes to Illinois' COVID-19 mitigation plan that were made without any input from state or local officials.
Also this week, several Republican lawmakers called for immediate action on energy reform legislation that will keep the state's nuclear fleet online.
The Governor signed legislation during the week that opponents say does nothing to fix a burdensome and unnecessary FOID card system, and further threatens the Second Amendment rights of law-abiding residents.
In other news, the 2021 Illinois State Fair gets under way Aug. 12 in Springfield, and the Office of the State Fire Marshal is accepting applications for a one-time grant for eligible volunteer and combination fire departments.
Pritzker continues to rule unilaterally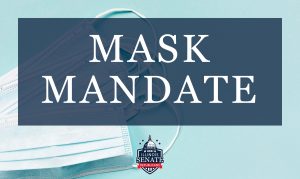 With his announced changes to the state's COVID-19 mitigation plan on Aug. 4, Gov. Pritzker continues his unilateral approach to pandemic decision-making, which actively undermines Illinois' ability to have broadly accepted mitigation strategies.
State Sen. Jil Tracy (R-Quincy) says it's coming up on 17 months that Gov. Pritzker has been running the state with little to no input by lawmakers or local officials. The Governor encourages the public to be "all in Illinois," but he refuses to be "all in" with state and local elected officials who better understand their geographic areas and their communities' needs.
The Governor should abandon his singular approach and bring others to the governing table to ensure that mitigation efforts will be broadly accepted by the populace and effectively implemented. By continuing to exclude other state and local leaders, Pritzker is failing the people of Illinois who would benefit from statewide coordination, input and buy-in from the public.
Lawmakers call for swift action to preserve Illinois' energy infrastructure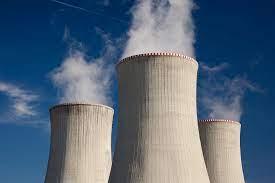 On Aug. 2, Senate Republican Deputy Leader Sue Rezin (R-Morris) and State Sen. Brian Stewart (R-Freeport) called for the Illinois General Assembly to reconvene at the earliest possible date to pass legislation that will keep the state's nuclear fleet online and extend Illinois' renewable portfolio standard (RPS).
The lawmakers' statement reads:
"If action is not taken soon, tens of thousands of workers will lose their livelihoods, millions of utility customers across Illinois will begin paying higher energy costs, and we will all suffer an immediate environmental impact equivalent to putting 4.4 million additional cars on the road, emitting carbon and other harmful sources of air pollution. Too much is at stake to wait for the demands of every individual interest group to be satisfied in a comprehensive energy package. We must act now to pass the provisions there is broad agreement on, which include preserving Illinois' nuclear fleet and extending the state's renewable portfolio standard with incentives for critical solar and wind initiatives. We are committed to passing these items now and coming back to the table to negotiate the more long-term aspects of Illinois' energy future with the various stakeholders between now and the General Assembly's Fall Veto Session in October. Time is of the essence. We cannot wait until later this autumn to protect energy jobs, protect our environment, and prevent dramatic rate hikes on utility customers."
Sen. Stewart represents the region that includes the Byron Generating Station in Ogle County. Sen. Rezin represents the region that includes the Dresden Generating Station in Grundy County. Exelon Generation, owner of the nuclear plants at Byron and Dresden, filed decommission reports on July 28, among the final steps required by law to retire the two plants this autumn.
New law perpetuates failures of the FOID system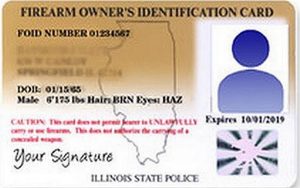 The ongoing failures of the FOID card system in Illinois are being perpetuated by legislation signed into law by the Governor on Aug. 2.
Sen. Tracy says House Bill 562 has been touted as a compromise when it actually further hinders a citizen's Second Amendment rights and places law-abiding gun owners at the mercy of an outdated and overwhelmed system. Adding another layer of bureaucracy punishes law-abiding gun owners in Illinois for the actions of criminals.
House Bill 562 will:
​Require person-to-person firearms transfers to be subject to National Instant Criminal Background Check System (NICS) at a Federal Firearms License (FFL) dealer or through online validation by the Illinois State Police using NICS.
Require a transferee to provide a record of a private transfer of a firearm to a FFL dealer within 10 days of sale, and require FFL dealers to keep the record of transfer for 20 years. On the demand of a peace officer, transferees have to identify the FFL dealer maintaining the transfer record or face the possibility of a Class A misdemeanor. The seller still has to maintain a record of transfer for 10 years.
Require an individual to submit fingerprints in order to receive auto renewal of their FOID card and Concealed Carry License (CCL) license.
Most changes in House Bill 562 take effect Jan. 1, with the exception of the universal background checks, which will take effect in January 2024.
Illinois State Fairs scheduled for Springfield and DuQuoin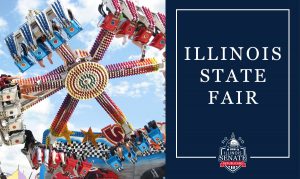 The Illinois State Fairs in Springfield and DuQuoin typically bring hundreds of thousands of people through their gates in celebration of agriculture, the state's number one employer and driver of the state's economy. The Fairs feature livestock shows, harness racing, carnival rides, a wide variety of live music and entertainers, and dozens of food and product vendors from across the state.
In Springfield, this year's Fair is set to run Aug. 12-22. Check out the Fair website at https://www2.illinois.gov/statefair/Pages/default.aspx for daily schedules, parking information, vendors, competitions, attractions, and Grandstand shows.
In DuQuoin, this year's State Fair is scheduled from Aug. 27 through Sept. 6. Check out the Fair website at https://www2.illinois.gov/sites/dsf/Pages/default.aspx for daily schedules, parking information, vendors, competitions, attractions, and Grandstand shows.
Senate Republican lawmakers and staffers will be talking with people from all over the state who are attending the Fairs to show their livestock or other farm products, or are participating in any of the many different activities and competitions during the 11-day events. Some of those interviews, pictures and updates will be posted on the Caucus website at https://www.ilsenategop.org/ and the Caucus Facebook page at https://www.facebook.com/ILSenateGOP/.
Local fire departments can apply for grants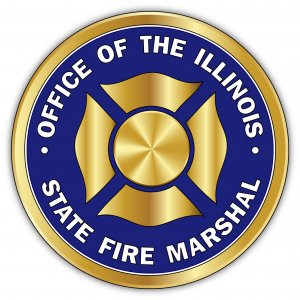 The Office of the State Fire Marshal is currently accepting applications for a one-time Illinois Fire Department COVID Assistance Grant opportunity for eligible volunteer and combination fire departments.
Applications are due by Aug. 13, and funds are expected to be awarded in October. More information is available at https://www2.illinois.gov/sites/sfm/CurrentFocus/Pages/Illinois-Fire-Department-COVID-Assistance-Grant.aspx.