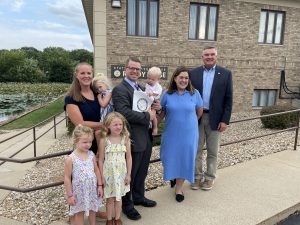 QUINCY – State Rep. Randy Frese and State Sen. Jil Tracy presented the Jeff Terry Family of Quincy a signed copy of Senate Bill 2158 on Sept. 14, inspired by their family's experience being initially denied medical insurance coverage for treatment for their child born with a port-wine stain birthmark.
Port-wine stains are the result of blood vessels that are unable to constrict normally and remain dilated. These blood vessels can become more dilated and susceptible to spontaneous bleeding or hemorrhage following minor trauma.
Senate Bill 2158 (Public Act 102-0642) ensures that health insurance will cover treatments for children 18 and younger that are intended to prevent medical complications associated with the port-wine birthmarks.