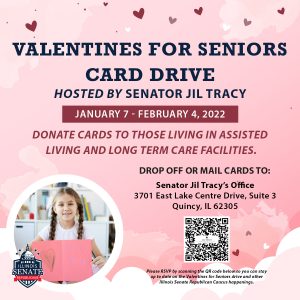 QUINCY – State Sen. Jil Tracy (R-Quincy) is asking 47th District residents to once again join with her to help uplift the spirits of people living in long-term care facilities by making and sending them Valentine's Day cards.
Tracy is encouraging community members, churches, schools, and other groups to participate in the Valentines For Seniors Card Drive, by dropping off Valentine's Day cards or mailing them to her district offices in Quincy and Macomb. Once the cards have been collected, they will be delivered to residents of the various long-term care facilities in communities across the 47th District.
"The pandemic has been difficult for everyone, but the residents of long-term care facilities have had to be even more isolated because of concerns about exposure to COVID-19 in all its various forms," said Tracy. "They have not been allowed much physical contact with their families and friends, which can make the days seem very long despite the best efforts of the facilities' personnel. Sending them a Valentine's Day card will remind them that we care about them."
Valentine's Day cards will be accepted through Feb. 7. Participants will have the option to either mail cards to, or drop them off at, Sen. Tracy's district offices at 3701 East Lake Centre Dr., Suite 3, Quincy, IL  62305; or 331 N. Lafayette St., Macomb, IL  61455.
Those choosing in-person delivery should remember to maintain social distancing and to wear masks when entering the offices.
Contact Helen Mayfield at hmayfield@adams.net for more information, or to indicate interest in participating.