QUINCY – State Sen. Jil Tracy (R-Quincy) is asking 50th District residents to help uplift the spirits of long-term care facility residents by making them Valentine's Day cards.
"The Valentines for Senior Card Drive has brought much joy and many smiles to the residents of local long-term care facilities. Many of those residents have had to be more isolated in recent years because of ongoing public health concerns," Tracy said. "Making them beautiful Valentine's Day cards reminds them how many people truly care about them."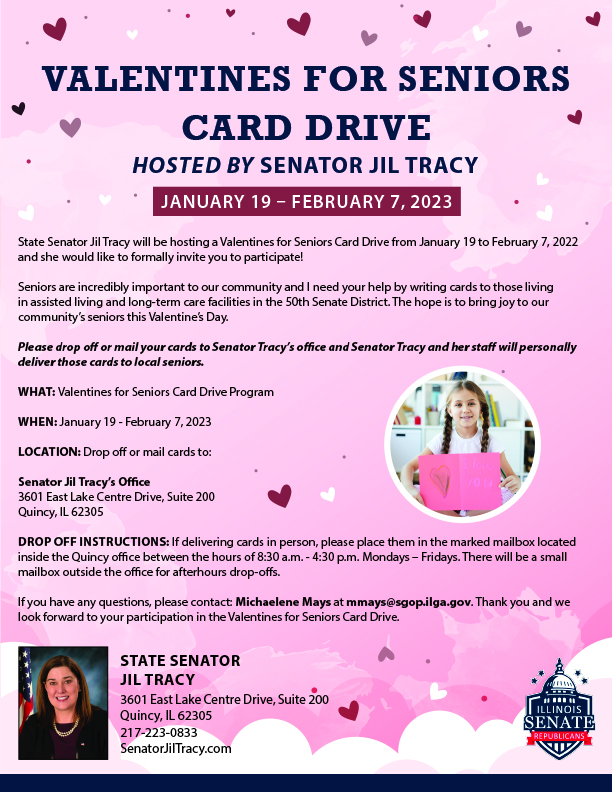 Tracy is encouraging community members, churches, schools, and other groups to participate in the third annual Valentines for Seniors Card Drive, by making and sending Valentine's Day cards to her district offices in Quincy and Jacksonville. Once the cards have been collected, they will be delivered to residents of long-term care facilities in communities across the 50th District.
Valentine's Day cards are being accepted now through Feb. 7. Participants may either mail cards to, or drop them off at, Sen. Tracy's district offices at 3601 East Lake Centre Dr., Suite 200, Quincy, IL 62305 (217-223-0833); and 325 W. State St., Suite 102, Jacksonville, IL 62650 (217-223-0833).
Contact Helen Mayfield at hmayfield@adams.net for more information, or to indicate interest in participating.'
In 2022, members of the Senate Republican Caucus collected and delivered more than 45,000 Valentines statewide through the program.