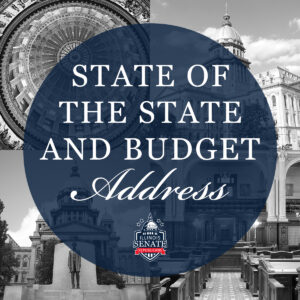 SPRINGFIELD – State Sen. Jil Tracy (R-Quincy) released the following statement after Gov. JB Pritzker delivered his Budget Address to a joint session of legislators Feb. 15 in the House of Representatives in the Capitol.
"In his State of the State/Budget Address, Gov. Pritzker is claiming fiscal success, but it is important to remember that any improvement in the state's fiscal outlook is the direct result of a massive influx of federal dollars and higher-than-expected tax revenues from inflation. Even more significant is the fact that all these temporary revenue sources are drying up. Yet the Governor wants to INCREASE permanent spending by $3 billion.
"This kind of unchecked spending can only set our state up for yet another tax increase down the road. Democrats cannot continue to go-it-alone in the budgeting process, creating new programs and funding pork projects while ignoring our working families that are struggling financially.
"Before we even consider new spending let's prioritize:
Funding disability services, which have been underfunded for years.
Providing relief to families on their utility bills after poor policy has driven up costs and weakened our reliability on the grid.
Improving access to great schools and affordable, quality childcare.
Cutting taxes for working families.
"Illinois' staggering tax burden is a major reason cited by businesses as the reason they flee to states that better support job-creators. Between energy prices and property taxes, it's no wonder we see employers moving to greener pastures."
As the legislative budget process gets under way, Sen. Tracy says she stands ready to work with all her fellow lawmakers on both sides of the aisle to make the tough decisions necessary to pass a balanced budget with structural reforms that will boost the economy and jobs.
Fiscal Year 2024 runs from July 1, 2023, through June 30, 2024.