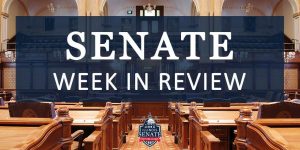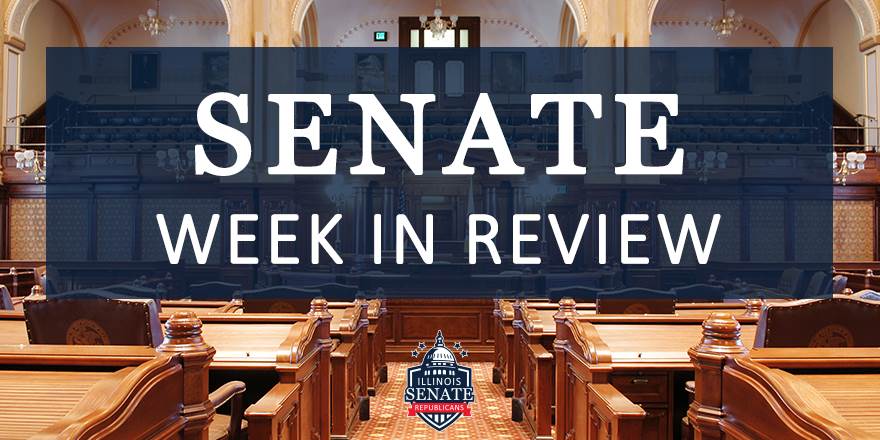 SPRINGFIELD – Gov. JB Pritzker painted a rosy view of the state's finances in his annual Budget and State of the State Address Feb. 15, but Senate Republicans are warning that a major tax increase is on the horizon as the Governor seeks to increase permanent state spending by $3 billion.
In an effort to focus attention on the problem of rising energy costs for downstate Illinois families, several Republican legislators held a press conference Feb. 14 to propose solutions for providing relief on utility bills.
And February is national American Heart Month. First declared in 1964, this year's event will be the 59th consecutive celebration. The American Heart Association has chosen to emphasize the importance of CPR in treating cardiac arrests and has issued a challenge to every household to have at least one person learn how to perform CPR.
Governor proposes $3 Billion spending increase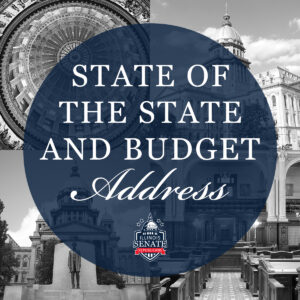 On Feb. 15, Gov. Pritzker proposed his fifth budget to the Illinois General Assembly, presenting an idealistic image of Illinois' fiscal outlook but also failing to address the looming realities the Illinois economy is likely to face.
The plan laid out by the Governor increases permanent state spending by $3 billion, despite experts warning of decreased revenue likely to be brought on by a recession. In the last few years, Illinois has benefited from a massive influx of federal dollars and increased revenues due to COVID-19 relief programs and inflation. But State Sen. Jil Tracy (R-Quincy) warns those days are about to end, and the Governor is failing to account for these realities.
Despite these very real threats, the Governor's outlined budget plan further expands state government—an increase of more than $10 billion since he took office. While the Governor's professed goals of funding priorities like early childhood programs and public safety initiatives are critical to a functioning state, Sen. Tracy reiterates the importance of focusing on creating a sustainable budget that will not spend Illinois residents into a major tax increase. She says a larger conversation is needed about structural reforms that will allow the state to protect its future investments and prioritize spending within its means.
Republican legislators seek relief for power bills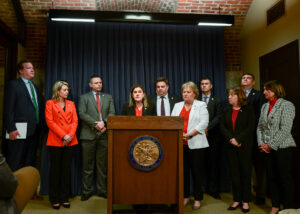 At the Capitol on Feb. 14, several downstate Republican legislators joined together calling for action to address the rising cost of energy, which has and will continue to impact families and businesses across the state. The lawmakers stood together a day before the Governor gave his Budget and State of the State Address to remind him that short-term and long-term relief for struggling Illinois families should be one of the top budget priorities this year.
Over the past year, power bills have almost doubled for some families. As a result, GOP lawmakers have proposed several bills and solutions that would provide direct relief to impacted Illinoisans, supply more energy immediately to the grid, and address the long-term supply and demand issues that impact consumer costs and reliability.
Sen Tracy is sponsoring and supporting the legislation addressing these issues, including:
Senate Bill 2200: Provides much-needed relief for Ameren residential and commercial customers, who were subject to increased rates last summer. Allocates $200 million (about $170 per customer) in rebates to affected consumers that would be broken up into monthly bill credits likely occurring from April through October. The Legislature approved an Ameren rate relief package during last month's lame-duck session, but the money was never appropriated.
Senate Bill 1548: Cuts burdensome regulatory "red tape" at the Illinois Environmental Protection Agency, which has prevented new power plants from coming online in a timely manner.
Senate Bill 1547: Creates the Power Grid Task Force requiring the General Assembly to look at the impacts that energy policies are having on Illinois' ability to produce the required amount of energy to meet Illinois' needs.
Sen. Tracy says she is also encouraging the Governor to take executive action to immediately increase the power supply on the grid while also revising permit procedures to expedite the development of new natural gas plants. Right now, there are more than 2,000 megawatts of clean, gas-generated power that can be instantly added to the energy supply.
U.S. celebrates American Heart Month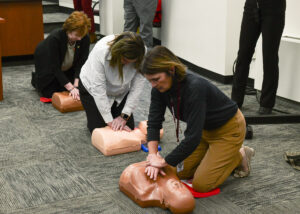 February is American Heart Month, a designated period where the U.S. strives to address the number one killer of Americans – heart disease. This month has been declared by the president for the past 59 years, and this year the focus will be on the importance of CPR. More than 350,000 cardiac arrests occur outside a hospital and 70 percent of those occur at home. Meanwhile, performing CPR can double or triple the chance of survival for a person in cardiac arrest.
This year, the American Heart Association has issued a nationwide challenge for every household to have at least one person learn how to perform CPR. A simplified version called Hands-Only CPR has been shown to be as effective in the first few minutes of treatment, and has only two steps. This simplified version stresses that the most important part of CPR is to keep the heart beating through chest compressions at approximately 100 beats per minute.
Sen. Tracy took part in a Hands-Only CPR training course Feb. 16 in the Capitol Complex and encourages other Illinoisans to learn Hands-Only CPR as well. The American Heart Association has a list of CPR classes at www.Heart.org/CPR.