Focuses on legislation to combat fentanyl epidemic, provide justice for victims of crime
QUINCY – State Sen. Jil Tracy (R-Quincy) is supporting legislation that puts victims of crime front and center by taking aim at fentanyl deaths, as well as better protecting the victims of domestic abuse, driving under the influence, and threats to childcare centers.
"Our communities are besieged by violence and crime, and we must send a strong message that we have had enough. That is why I am sponsoring and supporting legislation to protect those who are victimized by criminals, as well as put in place tougher penalties for those convicted of violent crimes in Illinois," Tracy said. "It is time to help the victims of crime find justice."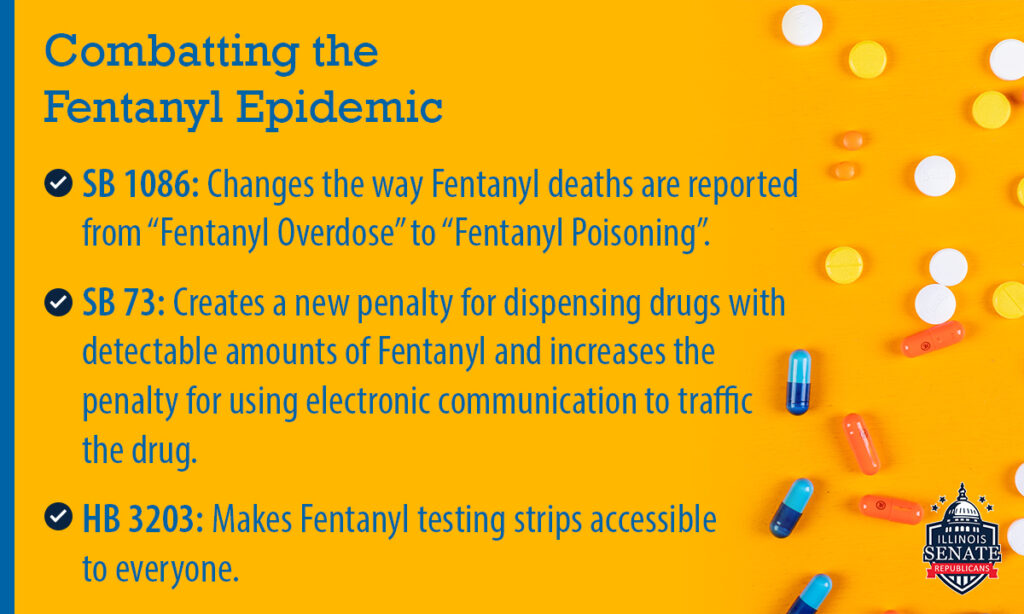 Components of the legislative package aim to increase penalties for selling drugs containing fentanyl and prevent overdose deaths. Senate Bill 73 stipulates that in addition to other penalties in current law, a person unlawfully selling or dispensing any drug that contains a detectable amount of fentanyl is guilty of a Class X felony and faces no less than 9 to 40 years in prison in addition to a fine of up to $250,000.
"Public Health data show that in 2021, opioid overdose deaths among Illinois residents increased 2.3% from 2,944 deaths in 2020 to 3,013 deaths in 2021. Statistics show that the rise in opioid deaths can be attributed to the influx of synthetic opioids, such as fentanyl. In fact, testing done nationally in 2021 found that 89 percent of opioid overdose deaths involved fentanyl or some other form of synthetic opioid," Tracy said. "These drugs are increasingly deadly."
As deaths due to drugs laced with fentanyl are on the rise, House Bill 3203 expands the availability of test strips capable of detecting even trace amounts of fentanyl that substances may be laced with. The legislation would allow test strips to be sold over the counter and enable county health departments to provide them for free.
Destigmatizing fentanyl deaths is the goal of Senate Bill 1086, which would require that in cases where fentanyl either causes or contributes to a death, the coroner or medical examiner will report the death as fentanyl poisoning instead of a fentanyl overdose.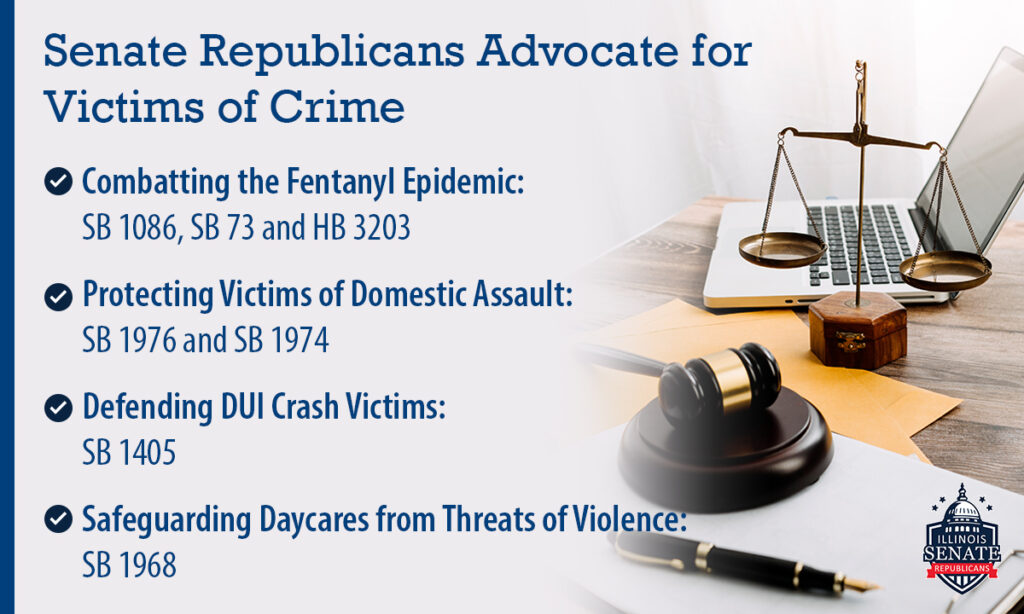 Other measures focus squarely on justice for victims of violent crime. Senate Bill 1974 would enhance the minimum penalty to Aggravated Domestic Battery rather than just Domestic Battery when an act of violence is committed against someone 60 years or older.
A new offense of Domestic Assault would be created by Senate Bill 1976, which provides law enforcement with a greater ability to go after domestic offenders who knowingly place any family member of their household in fear they are about to be seriously harmed. It also ensures that defendants released from custody ahead of a trial will be ordered to refrain from contacting their victims or entering their residences for a minimum of 72 hours.
Senate Bill 1405 would create a blended sentencing provision for aggravated driving under the influence where an accident kills one person and inflicts great bodily harm or permanent disability or disfigurement to one person or more. This legislation would allow for justice for all victims instead of just the person who was killed.
Senate Bill 1968 would put daycares in line with schools by making it a felony to threaten a childcare institution or daycare center building or threaten violence, death, or bodily harm directed against someone at one of these facilities.