Illinois Democrats want to expand $1.1 billion program for undocumented immigrant healthcare
SPRINGFIELD – As the federal Title 42 expires May 11 and thousands of people amass at the United States border with Mexico, State Sen. Jil Tracy (R-Quincy) fears even higher costs to Illinois' billion-dollar state program that provides healthcare to undocumented adults.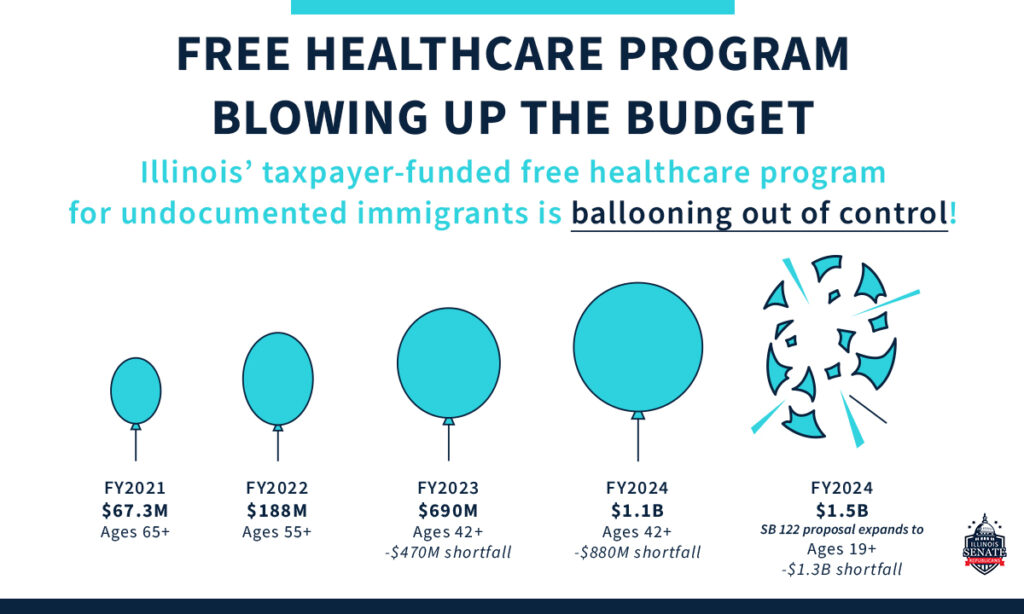 "This out-of-control program has grown at an astounding pace as Democrats continue to expand it and more and more immigrants enroll. In fact, this coming fiscal year, the program is expected to cost $1.1 billion in Illinois taxpayer money," said Tracy. "If the Democratic majority doesn't get a handle on this program, our state's most vulnerable citizens will continue to be left in the dust, including our developmentally disabled community, which is already severely underfunded."
The Health Benefits for Immigrant Seniors program was implemented in 2020 to provide benefits to undocumented immigrants ages 65 and older. It has since been incrementally expanded to include individuals ages 42 and older, and renamed Health Benefits for Immigrant Adults.
Because Democratic lawmakers relied on an estimate provided by advocates that grossly underestimated the number of people who would enroll – and failed to verify that it would be accurate – the program exceeded its yearly appropriation in the first month it was in place. And Democratic lawmakers have expanded the program so that next year it is expected to cost taxpayers $1.1 billion. As costs continue to skyrocket, Gov. JB Pritzker, who boasted about Illinois' status as the only state in the nation offering healthcare to undocumented immigrants at this scale, is now walking back that enthusiasm.
Despite ballooning costs, Democratic legislators continue pushing to further expand the program. Senate Bill 122 would expand taxpayer-funded coverage to all undocumented adults, adding an additional $380 million to the program's cost and bringing the total tab for taxpayers to nearly $1.5 billion.
As pandemic-era funding dries up and the economy slows down, Tracy is urging Democratic lawmakers to consider budgetary pressures Illinois faces and be responsible stewards of taxpayer dollars.
"It is time to get our priorities straight. We should first be keeping promises we made to our state's citizens," Tracy said. "The priorities of the Majority Party are hurting our most vulnerable, as well as everyday families who are trying to make ends meet."