SPRINGFIELD – With just a week to go in the scheduled spring legislative session, Senate Republicans have advanced several measures that seek to help the people of Illinois.
In other news, Illinois' billion-dollar healthcare program for undocumented immigrants is getting even more attention following the end of the federal Title 42 policy.
And Illinois is currently second in the United States in number of severe weather reports, while leading the nation in the number of tornadoes this year.
Senate Republicans Pass Measures as End of Session Nears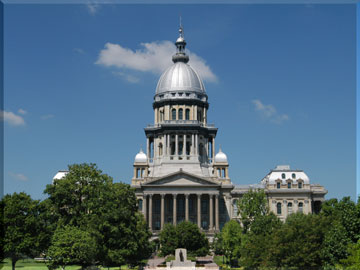 With just five scheduled days left of the spring legislative session, the Illinois Senate was busy at work this week moving through legislation to meet a Friday bill-passing deadline.
A few notable bills passed by Senate Republican members include:
House Bill 3203: Allows pharmacists and retailers to sell fentanyl testing strips over the counter to the public and allows county public health departments to distribute the testing strips at their facilities for free.
Senate Bill 1160: Requires the Renewable Energy Component Recycling Task Force to consider the benefits of prohibiting a person from mixing renewable energy components with municipal waste.
House Bill 1297: Seeks to address the teacher shortage by allowing private schools teachers the ability to buy up to two years of service credit from the Teachers Retirement System.
Senate Bill 1115: Allows university police to receive the same disability benefits as city police, and provides them with benefits based upon 65 percent of their pay if injured in the line of duty.
House Bill 3172: Allows individuals who require sliding scale insulin treatments to be accepted for residency at an assisted living facility.
House Bill 3202: Requires insurance companies to cover home saliva cancer screening tests every two years for at-risk individuals.
Title 42 highlights Illinois' ballooning undocumented healthcare program
May 12 marked the end of Title 42, which is a federal provision that allowed the Centers for Disease Control to expel or restrict the number of migrants entering the United States to help prevent the spread of the COVID-19. As thousands amass at the United States border, its ending is highlighting a billion-dollar program in Illinois that provides free healthcare to undocumented immigrants.
The Health Benefits for Immigrant Seniors program was implemented in 2020 to provide benefits to undocumented immigrants ages 65 and older. It has since been incrementally expanded to include individuals ages 42 and older, and has renamed Health Benefits for Immigrant Adults.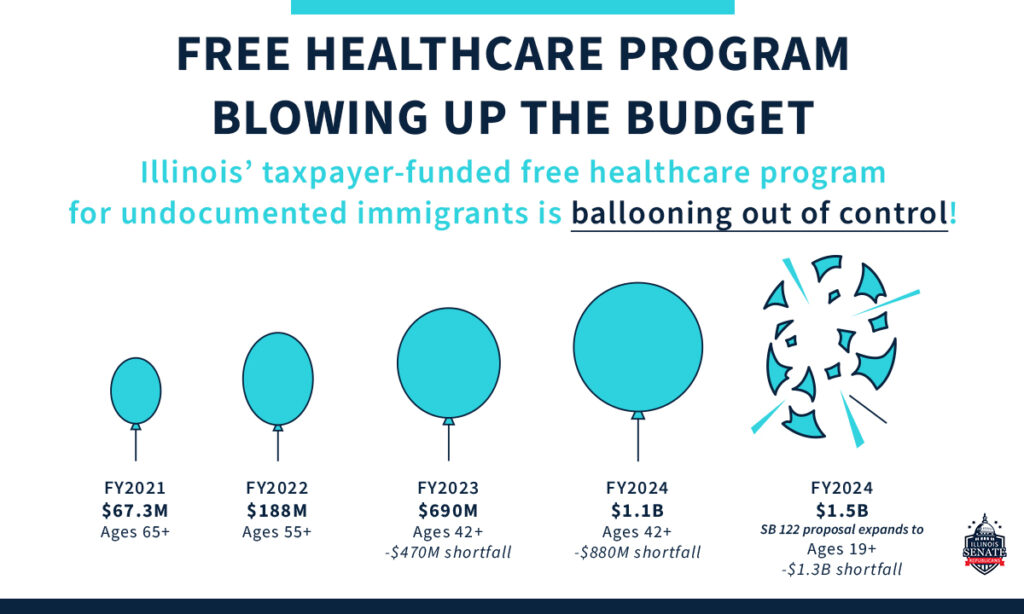 Because Democrats relied on an estimate provided by advocates that grossly underestimated the number of people who would enroll – and failed to verify that it would be accurate – the program exceeded its yearly appropriation in the first month it was in place. As Democrats have expanded the program, that trend has only continued, and next year it will cost taxpayers $1.1 billion. Gov. JB Pritzker initially boasted about Illinois' status as the only state in the nation offering healthcare to undocumented immigrants at this scale, but he is now walking back that enthusiasm as costs continue to rise.
State Sen. Jil Tracy (R-Quincy) says despite ballooning costs, Democratic legislators continue pushing to further expand the program. Senate Bill 122 would expand taxpayer-funded coverage to all undocumented adults. This expansion would add an additional $380 million to the program's cost, bringing the total tab for taxpayers to nearly $1.5 billion.
As pandemic-era funding dries up and the economy slows down, Senate Republicans are urging Democratic colleagues to consider budgetary pressures Illinois faces and be responsible stewards of taxpayer dollars. Sen. Tracy says Illinois should first keep promises made to its vulnerable citizens, such as the developmentally disabled community whose programs have been underfunded by half a billion dollars over the last three years.
Illinois second in severe weather reports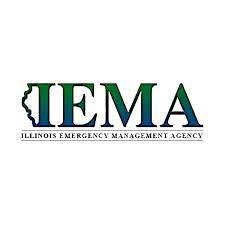 Illinois has seen quite a bit of severe weather so far this year. Last week's I-55 dust storm, with its tragic outcomes, was the first time east of the Mississippi River that the National Weather Service has issued a Dust Storm Warning.  Illinois ranks second in the number of severe-weather reports this year, only outranked by Texas.
This increase in events is most clearly seen already in the number of tornadoes. Currently, Illinois leads the nation in confirmed tornadoes, with 86 so far this year. This number is daunting given that Illinois' peak tornado activity typically falls between April and June.
The Illinois Emergency Management Agency encourages Illinoisans to review its Severe Weather Preparedness Guide to ensure they and their families remain safe during this year's severe weather season.