SPRINGFIELD – General Assembly members returned to the Capital City Oct. 24 to start the fall Veto Session, and Senate Republicans are using this time to push for the continuation of the Invest in Kids scholarship program.
In other news, the Illinois State Police has announced three dates and locations for public hearings to address confusion over the "Assault Weapons Ban" gun registration process.
And Senate Republicans are collecting submissions for their annual "Wall of Honor" for Illinois veterans.
Fall Veto Session gets under way in Springfield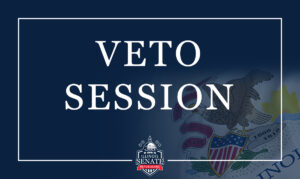 State lawmakers were back in Springfield this week for the first three days of the annual fall Veto Session. During the spring session, more than 550 bills were passed through both chambers of the General Assembly and sent to the Governor for final action. Gov. JB Pritzker signed all but six into law. Of the six bills, three received total vetoes, and an additional three received partial, or amendatory, vetoes.
Legislators can override a full veto with a 3/5 vote in the House and Senate. If a vetoed bill is not called for a vote, the veto stands, and the bill dies. For bills that received amendatory vetoes, the Legislature can either vote to approve the Governor's amended bill language with a simple majority vote, or lawmakers can override the amendatory veto with a 3/5 vote to approve the original bill. The leaders of the Majority Party decide which, if any, bills are called for reconsideration.
There was little action on vetoed bills this week; however, the Senate took the opportunity to take up other measures now on their way to the House of Representatives for consideration.
Lawmakers will return for the final week of veto session starting Nov. 7.
Senate Republicans push for elimination of sunset date for Invest in Kids Act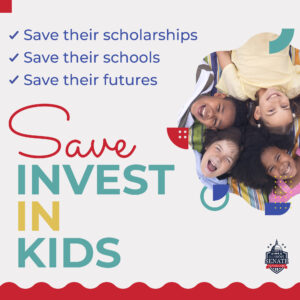 Since the inception of the Invest in Kids program in 2017, more than $308 million in private donations have been made to a tax credit scholarship fund that has provided more than 38,000 scholarships to help low-income K-12 students in struggling schools optimize their chances for academic success by attending a school of their choice.
State Sen. Jil Tracy (R-Quincy) says an estimated 405 needs-based tuition scholarships have been awarded in the 50th District through Invest in Kids, but the program is now at risk. Without a legislative intervention during Veto Session, Invest in Kids expires on Jan. 1, 2024, potentially forcing students to leave their current schools.
Senate Republican Caucus members have set the removal of the sunset date as a top priority for the fall Veto Session, and Tracy says families with children who are struggling at their current schools should be able to apply for a tuition scholarship, so they are able to place their children in school environments better suited for them.
Illinoisans who agree that the Invest in Kids tax credit scholarship program needs to be made permanent are encouraged to add their names to a Senate Republican petition at https://ilsenategop.org/saveinvestinkids/.
ISP announces three dates, locations for "Assault Weapons Ban" gun registration process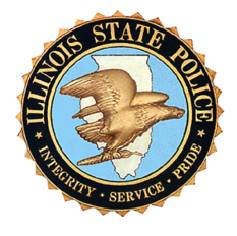 A new Illinois law that bans a long list of firearms, magazines, and other devices will be the subject of public hearings hosted by the Illinois State Police (ISP).
These hearings are in response to the registration process outlined in the new law, which requires individuals who possessed one or more of these now-banned firearms prior to the Act taking effect on Jan. 19, 2023, to submit an endorsement affidavit through their Firearm Owner's Identification Card account to legally maintain possession.
To clear up confusion and concerns about the registration process, the ISP is holding three public hearings, which can also be heard via WebEx. Persons wishing to speak at a public hearing must do so in person and must submit a completed witness slip. For more information and to access the WebEx links, click here. Dates and locations are:
Nov. 2, 9:30 a.m., Room D1, Stratton Building, 401 Spring Street, Springfield, IL 62704
Nov. 3, 9:30 a.m., Room C-600, Bilandic Building, 160 N. La Salle Street, Chicago, IL 60601
Nov. 6, 9:30 a.m., Caseyville Community Center, Village Hall, 909 South Main Street, Caseyville, IL 62232
Senator Syverson says he voted against this law and believes it violates law-abiding citizens' 2nd Amendment rights. He hopes the law will eventually be ruled unconstitutional by the federal court system, where lawsuits are currently pending.
Senate Republicans still collecting submissions for Veterans Wall of Honor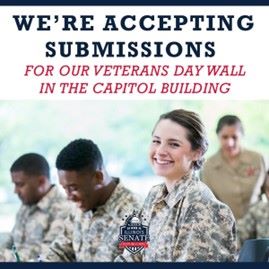 The Senate Republican Caucus is showcasing veterans' legacy of service on a "Wall of Honor" on display in the Capitol Rotunda Nov. 7-20.
Submissions should include a photo and a written story (maximum 250 words), name, military branch, and conflict served if they served during a time of war. Submissions should be sent by Nov. 6 to veteransday@sgop.ilga.gov or mailed to Veterans Day "Wall of Honor," 110D Statehouse, Springfield, IL  62706. For more information, call 217-782-7219.