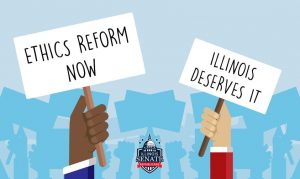 SPRINGFIELD – The Senate Ethics Committee met for the first time April 21 — nearly four months since the start of the new General Assembly — to hear testimony on a bill that seeks to reform legislative ethics laws in Illinois.
State Sen. Jil Tracy (R-Quincy) says that while Senate Bill 4 includes several good ideas, it still leaves out many others, and greater input should be coming from both sides of the aisle.
"Senate Republicans have filed several ethics bills that have not even been given a hearing. In fact, today's ethics hearing was the only one scheduled within the first four months of the General Assembly," said Sen. Tracy. "What kind of message does that send to the public, especially when a cloud of scandal continues to linger over the Dome? While I appreciate the efforts put into Senate Bill 4, this is only a start. Going forward, I hope that discussions become more inclusive of ideas so that we can present a final package that roots out corruption and begins to restore public trust."
Sen. Tracy also noted the extremely short notice for the 9:00 a.m. Senate Ethics Committee Meeting, which meant that many people, including the media, were not able to plan to attend the meeting. "Is this bill going to be pushed all the way through to the finish line, just a matter of hours after it was first discussed publicly? We saw similar tactics during the lame-duck session earlier this year, with disastrous results," she said.
The 47th District Senator has introduced three ethics reform bills this year, none of which have been given a hearing.
Senate Bill 550 would prohibit a member of the General Assembly from lobbying local governments or the state's Executive Branch for compensation. The legislation also prohibits lawmakers' spouses and immediate family members from lobbying for compensation at any level of government. An exception is allowed for lobbying as part of the member's official duties as a member of the General Assembly.
Senate Bill 551 would require more information to be disclosed in the Quarterly Reports filed by the Legislative Inspector General. The reports will be required to include the total number of founded reports (currently complaints) forwarded to the Attorney General.
Senate Bill 549 prohibits a General Assembly member to negotiate for employment with a lobbying entity while in office. It also provides a "revolving door" prohibition on former members of the General Assembly lobbying the General Assembly within one year of leaving office.
Sen. Tracy credits Senate Bill 4 for starting the conversation on ethics reforms, but says much more can be done.
"The good news is that we are finally talking about ethics reforms, but the reforms should be stronger, and can be better with the input of all lawmakers," Tracy said. "Ethics reform should not be a partisan issue. We have a common goal of improving the system to better serve Illinoisans. We share many of the same ideas for reform, and we all need to be working together to pass real ethics reforms."