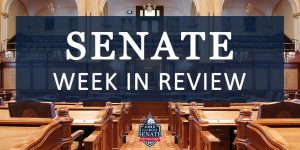 SPRINGFIELD – The Illinois General Assembly began its last scheduled month of the spring legislative session this week with lawmakers considering a variety of legislation in committees and taking floor action on several measures.
In other news, the Office of Inspector General released a scathing report about the fatal COVID-19 outbreak at the LaSalle Veterans' Home, which has claimed the lives of 36 veterans.
Also during the week, lawmakers introduced election reform legislation seeking to bring standardization and transparency to elections. Meanwhile, Democrat lawmakers continue drawing new legislative maps using flawed data and providing little transparency.
And law enforcement officers from across the state came to the Capitol May 6 to participate in the Illinois Peace Officers Memorial Service.
Report notes Administration's lack of leadership

State Sen. Jil Tracy says Illinoisans need more answers about the Pritzker Administration's lack of leadership, and is calling for a joint hearing following the release of a report from the Office of the Inspector General detailing the fatal COVID-19 outbreak at the LaSalle Veterans' Home. The outbreak has claimed the lives of 36 veterans—making it the deadliest outbreak at a state-run facility in Illinois history.
The report makes clear how little the Illinois Department of Public Health (IDPH) and the Governor's Office were involved in overseeing the outbreak. IDPH personnel failed to arrive on-site at LaSalle for nearly two weeks.
To date, 12 families who lost a loved one during the LaSalle Veterans' Home COVID-19 outbreak have filed suit.
Election standardization and transparency
On May 6, State Sen. Sally Turner (R-Beason) and State Sen. Sue Rezin (R-Morris) teamed up with county clerks to announce major election reform legislation.
The Election Standardization Act (Senate Bill 1326) came from an Election Reform Working Group organized by Sen. Turner earlier this year. A panel of local and state election officials developed a series of reforms to improve the election process through increased transparency and uniformity within the state's current election system.
The Election Standardization Act would:
•                     Standardize election judge training by requiring election authorities to use specific guidelines provided by the State Board of Elections.
•                     Require election authorities to post on their Web sites the reason for any reporting delay that is five hours past close of polls.
•                     Require the State Board of Elections to audit the post-election vote-by-mail processing requirements and procedures of five percent of the state's election authorities.
•                     Require election authorities to post on their Web sites the procedures for processing vote-by-mail ballots.
Proponents of the legislation say these reforms would help ensure voters have better access to information regarding the election process, as well as provide them with consistency every time they vote.
Concerns about redistricting accountability and fairness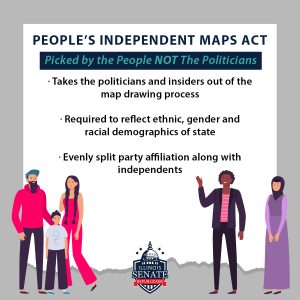 Gov. Pritzker was called out during the week by both Illinois and national publications for his recent statements on the idea of "fair maps."
On May 2, Champaign News Gazette columnist Jim Dey likened the Governor's prior promise to not support a partisan map as "doubling-dealing." Dey wrote: "Gov. J.B. Pritzker last week made it clear that his previous pledge to oversee a fair legislative map-drawing process and veto an unfair map is now inoperative. It is, in fact, so inoperative that he's now pretending he never made the promise in the first place."
Meanwhile, a recent Wall Street Journal editorial noted how Gov. Pritzker walked back his "pledge to veto" a partisan, gerrymandered map. The Editorial Board wrote about the Governor: "He insisted on 'an independent commission to handle creating a new legislative map.' … But as the partisan pens meet paper, Gov. Pritzker now says he'll be satisfied with a map drawn by his legislative allies."
The editorial also noted Illinois Republicans have proposed to create a balanced, bipartisan redistricting commission to draw new maps to ensure fair maps.
Redistricting, as Illinois conducts it, is a highly partisan process, and that was very evident during a May 1 hearing. State Sen. Jason Plummer (R-Edwardsville) asked several times about which source of data was being used to allow Illinoisans to draw proposed legislative maps on a website established and run by the Senate Democrat Caucus.
After being repeatedly told the source of data was not known, a citizen witness subsequently asked the same question, and received a direct answer that statistics from the American Community Survey (ACS) were being used for the map-making. ACS data is considered a mere "snapshot" of the kind of detailed demographics needed to draw accurate and fair maps.
Since the redistricting hearings began, Senate Republicans have insisted on waiting to draw new legislative and congressional boundaries until the full and complete U.S. Census Bureau data on the 2020 Census are available. That report is expected to be released late this summer.
Honoring fallen officers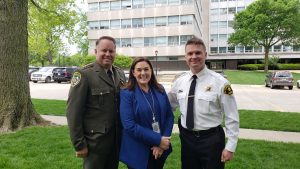 The Illinois Peace Officers Memorial Service was held on May 6 in Springfield to honor men and women of law enforcement who died in 2019 and 2020.
This annual ceremony honors the brave men and women who have given their lives in the performance of their duty. On the west lawn of the Illinois State Capitol stands a monument to these dedicated public servants. Inscribed on the monument are the names of fallen heroes.
Attending the ceremony from western Illinois were Ogle County Sheriff Brian VanVickle (left) and McDonough County Sheriff Nick Petitgout (right).
This year, names were read for 2021 honorees and 2020 honorees.
For 2021, 10 current names and three historic names of officers will be added to the monument. Current names: Officer Marco Di Franco, Sergeant Clifford Martin Sr., Officer Ronald Newman, and Field Training Officer Titus T. Moore, all of the Chicago Police Department; Correctional Officer Sheila Rivera, Deputy Sheriff Richard O'Brien, Correctional Officer Antoine Jones, Correctional Officer Jose Marquez, and Deputy Sheriff Richard Santiago Jr., all of the Cook County Sheriff's Office; and Chief Terrence Allen Engle of the Hampton Police Department. Historic names: Assistant City Marshall Herbert Bronson of Charleston Police Department; City Marshall John Logan of Lewis Police Department; and Deputy Clarence Lanham of McLean County Sheriff's Office.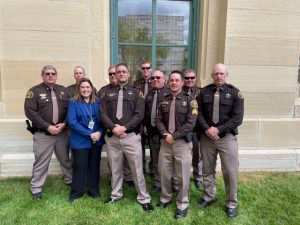 For 2020, six current names and three historic names of officers will be added to the monument. Current names: Trooper First Class Christopher Lambert, Trooper First Class Brooke Jones-Story, Trooper First Class Gerald Ellis, and Trooper First Class Nicholas Hopkins, all of Illinois State Police; Deputy Sheriff Jacob Keltner of McHenry County Sheriff's Office; and Deputy Sheriff Troy Chisum of Fulton County Sheriff's Office. Historic names: Officer Joseph Hood of Savana Police Department; Officer Bert Plattenberger of Savanna Police Department; and Officer Owen Masterton of Glenview Police Department.
Fulton County Sheriff Jeff Standard and Sheriff Deputies attended the memorial ceremony to honor their fellow officer, Deputy Sheriff Troy Chisum who was killed in the line of duty in 2019.