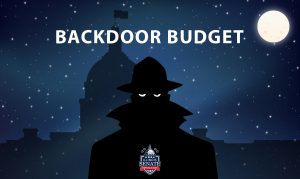 SPRINGFIELD – State Sen. Jil Tracy (R-Quincy) says she could not support a Fiscal Year 2022 state spending plan jammed through by Democrat leaders well after midnight because it spends billions on new programs while cutting hundreds of millions in jobs-creating incentives at a time when Illinois' pandemic-weary economy needs them the most.
"Just four days ago, I stood with several Senate Republican colleagues expressing concern that the Governor was trying to take money away from jobs-creating programs at a time when Illinoisans need them the most. Our fiscal analysis had revealed an additional $16 billion in unanticipated tax revenues, so there was no need for tax hikes, budget cuts or a cut in job incentives. We asked, 'Where does it end? When is it enough?'
Their response? Releasing more than 3,000 pages of budget documents at 1:00 a.m. on June 1. An hour late, as if not a care in the world as to how to spend Illinois taxpayers' money and provide services to Illinois citizens. Then forcing a vote with little to no time for all lawmakers to study the details.
Gov. Pritzker and Democrat leaders must realize that by 'going it alone,' they must also take responsibility for the state's current economic conditions. Government-imposed shutdowns have decimated our small-business community, and it's the state's job to help create a landscape for them to rebuild rather than take away much-needed jobs-creating incentives. Is it any surprise that businesses continue to flee Illinois, taking thousands of jobs with them?"
Tracy says Senate Republicans have tried repeatedly to work with Democrat leaders to pass a balanced budget with the business and government reforms needed to boost Illinois' economy and jobs; however, their attempts have been repeatedly rebuffed.
Fiscal Year 2022 runs from July 1, 2021, through June 30, 2022.