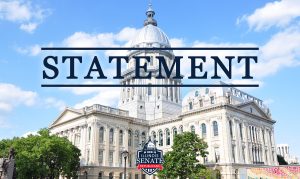 SPRINGFIELD – Gov. JB Pritzker continued his go-it-alone pandemic decision-making Aug. 26 – announcing for the second time this month more mask and vaccine mandates, according to State Sen. Jil Tracy (R-Quincy)
The 47th District Senator says the changes to Illinois' COVID-19 mitigation plan are just the latest in a long series of policy changes the Governor has made without any input by state lawmakers or local officials.
"With his record of 17 months of going it alone, and excluding other state and local leaders, Gov. Pritzker has failed the people of Illinois who will be better served by public input and more consideration of regional differences," Tracy said. "Bringing others to the table and listening to their concerns will better reflect the conditions in our local communities, and make any further changes more acceptable to the public and thus more easily implemented."
Tracy says she will continue to advocate for local officials having control over such decisions, as it affects their schools and communities.