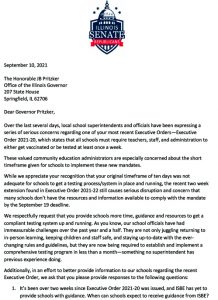 State Sen. Jil  Tracy (R-Quincy) joined with several of her colleagues Sept. 10 to send a letter to Gov. JB Pritzker, asking for more information about the vaccine-or-test mandate that is part of the Governor's most recent Executive Order.
The letter states, in part:
"Over the last several days, local school superintendents and officials have been expressing a
series of serious concerns regarding one of your most recent Executive Orders—Executive
Order 2021-20, which states that all schools must require teachers, staff, and administration to
either get vaccinated or be tested at least once a week.
These valued community education administrators are especially concerned about the short
timeframe given for schools to implement these new mandates."
Click on the image at right to read the full letter, or click on  9.10.21 Vaccine or Test Mandate Letter to Gov