SPRINGFIELD – Despite Gov. JB Pritzker extending the deadline by two weeks, concerns continue to mount for school officials who are scrambling to implement his COVID-19 vaccine-or-test mandate without any guidance from the Illinois State Board of Education, according to State Sen. Jil Tracy (R-Quincy).
The Senate is scheduled to be in session Sept. 13 after the House of Representatives returned to Springfield Sept. 9 to negotiate and pass controversial energy legislation.
Meanwhile, farmers and their families throughout Illinois are now eligible for a program that seeks to connect farmers with mental health providers and resources through a Farmer Assistance Helpline.
This weekend marks the 20th anniversary of the September 11 terrorist attacks, and a ceremony was held on the Capitol lawn Sept. 10 to honor Illinois' fallen firefighters.
Vaccine-or-test mandate deadline extended for schools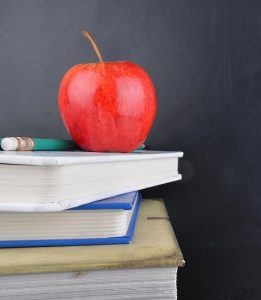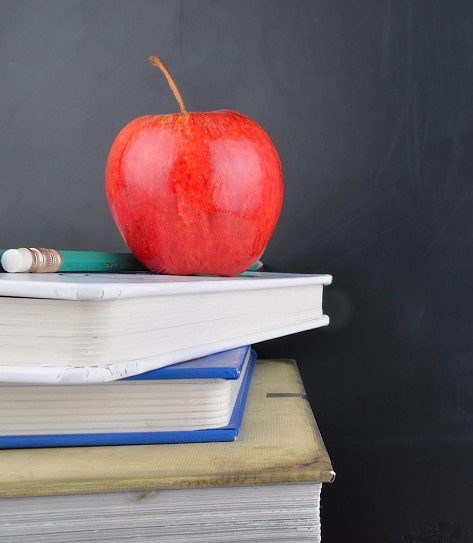 A new Executive Order issued by Gov. Pritzker gives schools two additional weeks to implement his COVID-19 vaccine-or-test mandate. Still, school administrators across the state are scrambling to meet the new Sept. 19 deadline.
On Aug. 26, Gov. Pritzker issued Executive Order 2021-20, which stated that all schools, public and private, must require teachers, staff, and administrators to either get vaccinated or be tested at least once a week. This order gave schools a deadline of Sept. 5 to implement a testing procedure for unvaccinated employees.
After school superintendents expressed grave concerns about the possibility of getting a testing process and system up and running in just 10 days, the Governor issued yet another Executive Order extending the deadline by two weeks.
Tracy said that while she appreciates the extra time given to schools, she fears that 24 days still isn't sufficient time for school officials to implement and turn around a testing program—something no superintendent has prior experience doing.
SHIELD, the University of Illinois' COVID-19 saliva testing program, is available for schools to use; however, SHIELD has said that it takes up to six weeks to onboard schools into its program.
School officials are also growing concerned that the Illinois State Board of Education has yet to issue guidance on the Governor's Executive Order, despite it being more than two weeks since the order was issued.
Tracy said the Governor needs to provide Illinois' valued community education administrators with more time, guidance and resources to get a compliant testing system up and running.
Energy legislation passes the House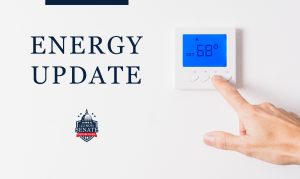 On Sept. 9, the House of Representatives reconvened to continue to negotiate and debate the controversial energy legislation that was pushed out of the Senate in the early morning hours of Sept. 1.
Building off work done in the Senate the previous week, the proposal – now contained in Senate Bill 2408 – includes many of the same sweeping provisions from the original Senate legislation, Senate Bill 18.
Concerns with the energy package include:
Gives nearly $700 million in taxpayer funds to bailout Exelon.
Creates the largest utility rate increase in Illinois history.
Requires the closure of all private-owned natural gas facilities by 2045.
Requires the closure of all private-owned coal plants by 2030.
Gives private companies the power to invoke eminent domain in nine counties, stretching from Pike County to Clark County, to build out new transmission lines.
Excludes wind and solar from the same ethical standards that traditional energy must follow.
One of the most notable changes made in the House of Representatives includes moving up the closure date of the Prairie State Coal Plant in Southern Illinois and CWLP Coal Plant in Central Illinois by seven years, requiring a closure date of 2038 unless they hit a 45 percent carbon reduction target by 2035.
Senate Bill 2408 passed the House on Sept. 9 by a vote of 83 to 33. The Senate is scheduled to return on Sept. 13 to take up the legislation.
Mental health resources expanding for Illinois farmers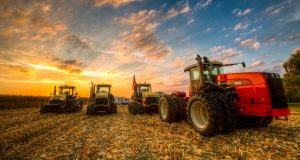 A pilot program started in 2019 is expanding to help farmers and their families facing stress-related mental health problems.
The Illinois Department of Agriculture recently announced during the annual Farm Progress Show that the Farm Family Resource Initiative pilot program, which currently serves six Illinois counties, will be expanded to all 102 counties throughout the state. The expansion was made possible through a $500,000 grant from the U.S. Department of Agriculture.
The expansion means famers across the state will be able to connect with mental health providers and resources through a Farmer Assistance Helpline. The hotline is also expanding to include text and e-mail communication options.
The program is administered under the Southern Illinois University School of Medicine Center for Rural Health and Social Services Development. Famers and their families seeking assistance can call 1-833-FARM-SOS. The line is open 24 hours per day, seven days per week.
20th anniversary of 9/11
September 11, 2021, marks the 20th anniversary of the 9/11 terrorist attacks that claimed the lives of nearly 3,000 people. Americans across the nation were in shock and faced unimaginable fear. The devastation, destruction and loss that occurred two decades ago would go on to leave a lasting mark on the nation.
Tracy said she was driving to work at the Attorney General's regional office in Quincy when she learned of the attacks. "When I arrived at the office, we were notified to close the office for the day as the magnitude of the attacks wasn't known and may extend to State buildings," Tracy said. "It was a horrifying feeling to know our country was being attacked, our citizens were dying, and the fear of not knowing the extent of the attacks and the damage."
Now observed as Patriot Day, Sept. 11 serves as a yearly tribute to the victims, survivors, and first responders who were impacted on 9/11/2001.
Illinois Fallen Firefighter Memorial and Medal of Honor Ceremony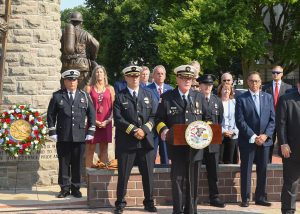 On Sept. 10, firefighters from across the state gathered for the 28th annual Illinois Fallen Firefighter Memorial and Medal of Honor Ceremony at the Capitol.
The memorial ceremony is held annually to honor firefighters who died in service and recognize those who went above and beyond the call of duty. As the ceremony was unable to be held last year, this year's ceremony will pay respect to firefighters lost in 2019 and in 2020.
Heroes honored in this year's ceremony include:
Captain Jacob Ringering, Godfrey Fire Protection District
Firefighter Kody Vanfossan, Christopher Fire Department
Firefighter Mario Araujo, Chicago Fire Department
Firefighter Dylan Cunningham, South Holland Fire Department
Firefighter Robert Reisinger, River Grove Fire Department
Firefighter Edward Singleton, Chicago Fire Department
Paramedic Robert Truevillian, Chicago Fire Department
The memorial ceremony began in the State Capitol Complex with the presentation of colors and an invocation at the Illinois Fallen Firefighter Memorial, followed by the Medal of Honor Ceremony at the Bank of Springfield Center in downtown Springfield.