SPRINGFIELD – Gov. JB Pritzker issued a new far-reaching Executive Order this week targeting gun violence in the state.
Several controversial bills, however, are still awaiting the Governor's signature.
In other news, Illinoisans are reminded to change their clocks back Nov. 7 for the end of Daylight Saving Time.
Governor issues Executive Order on gun violence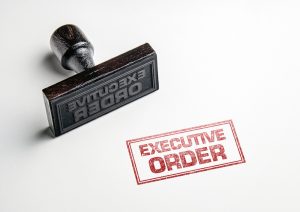 Much of Gov. Pritzker's Executive Order issued Nov. 1 is actually related to implementing legislation passed by lawmakers earlier in the year, including legislation creating the Reimagine Public Safety Act and the Office of Firearm Violence. The Executive Order also declares gun violence as a public health crisis.
The Reimagine Public Safety Act includes grants for violence prevention and intervention programs, youth development programs, and trauma recovery services for young people. According to the Governor's press release, $250 million would be invested in the Act over the next three years. As $50 million was included in the current-year budget, an additional $200 million would have to be appropriated over the next two years.
The Executive Order also requires inter-agency cooperation to curb firearm violence in the most affected communities, spearheaded by the newly-created Office of Firearm Violence at the Illinois Department of Human Services (DHS). It also authorizes DHS to work with academic institutions for research on violent crime and prevention.
While the Executive Order and new legislation are primarily focused on financially investing in violence prevention and treatment services, some 2nd Amendment advocates are concerned about potential implications for law-abiding gun owners. The Executive Order includes funding for gun buyback programs, as well as takes the very serious step of declaring gun violence to be a public health crisis. Some 2nd Amendment advocates fear that declaration could be used as the basis for new restrictions down the road.
State Sen. Jil Tracy (R-Quincy) says it is important to make sure the Executive Order and the programs move forward as intended, but not at the expense of law-abiding gun owners. She also says she hopes the Majority Party takes a more comprehensive approach, and allows a public hearing for public-safety legislation filed Oct. 6 by Republicans, instead of blocking action on those reforms.
Controversial legislation not yet signed by Governor

While Gov. Pritzker has been expected to sign several controversial bills from the recent fall veto session, three pieces of legislation that generated the most public response have not yet received his signature.
Senate Bill 1169 would reduce protections provided by the Illinois Health Care Right of Conscience Act related to COVID-19 vaccinations and testing. These changes generated significant pushback from the public, including more than 50,000 individuals who filed witness slips in opposition to the bill. This bill was initiated at the request of the Governor.
House Bill 370 repeals the state's Parental Notification of Abortion (PNA) Act. Under current law, parents would have to be notified before one of their minor children receives an abortion. Provisions are in place for individuals who are victims of abuse. The recently-passed legislation, however, completely ends the notification requirement. In media interviews, Gov. Pritzker has repeatedly stated his support for repealing the PNA Act.
House Bill 1291 contains proposed new Congressional maps as part of the once-every-ten-years process of redistricting, following the census. Despite pledging as a candidate to veto maps drawn by lawmakers, the Governor already signed new legislative and Supreme Court maps that were drawn by the Majority Party. According to recent news stories, as well as an admission from the House Speaker's office, Gov. Pritzker's office was directly involved in drafting the new Congressional maps with lawmakers, and is thus expected to sign this bill as well.
A handful of less controversial bills from the veto session still await the Governor's signature, including an incentive program designed to help attract and grow jobs and businesses related to electric vehicles, as well as the legalization and regulation of midwives.
Remember to "Fall Back" this weekend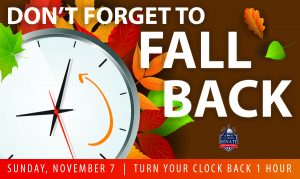 Daylight Saving Time, which started on March 14, comes to an end at 2:00 a.m. on Nov. 7. People are advised to move their clocks back before they go to bed Saturday night, though cell phones, most computers, and many other electronic devices will automatically make the change on Sunday morning.
While many people will welcome the extra hour of sleep, the end of Daylight Saving Time will also mean that it gets dark earlier each night.
Several state lawmakers have filed legislation in recent years to move the state to Daylight Saving Time throughout the entire year, though none of the bills have been made into law yet. If one of the proposals were to pass, the state would still need Congressional approval to make the change official.