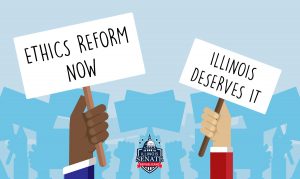 SPRINGFIELD – Six months of stalling by legislative Democrats over selecting a new Legislative Inspector General has needlessly left Illinois without an urgently-needed ethics watchdog for state lawmakers, and thus more vulnerable to government corruption, according to State Sen. Jil Tracy (R-Quincy) during a press conference today.
January 6 marks the final day that outgoing Legislative Inspector General (LIG) Carol Pope will be in office to perform her official duties. Following today, the Office and its staff will be empty, leaving complaints of wrongdoing unanswered and uninvestigated. Pope announced on July 14, 2021, that she would resign that post on Dec. 15, 2021, calling the LIG Office a "paper tiger" after a bill passed earlier in 2021 did not create meaningful ethics reform in Illinois. After an impasse within the Legislative Ethics Commission (LEC) to fill the vacant LIG position, Pope agreed to stay on through January 6.
As Chair of the LEC, Sen. Tracy has been working tirelessly for many months to find a replacement for Pope. However, several Democrat members of the LEC left a meeting before a vote was taken in October, saying they did not want to "rush the process," and have since employed several other stalling tactics to confound the process and push for a candidate that was not recommended by the LEC's Search Committee.
"Confirming a candidate before LIG Pope left has always been my top priority. It is unfortunate that my goal was not shared by some of the Democrat members of the LEC who did what they could to stall and circumvent the selection process," Tracy said. "Our Search Committee interviewed multiple candidates and recommended two qualified candidates, and we should have been able to fill this position in a timely manner. But several Democrat members of the LEC did not commit to seeing the process through, and we find ourselves without a qualified LIG to address legislative ethics complaints."
The 47th District Senator is also working to further empower the LIG – once a replacement is named – to root out corruption in the General Assembly. She is introducing legislation that would make important changes in the way the LEC processes ethics complaints against state lawmakers.
Sen. Tracy is proposing common-sense reforms, Senate Bill 3030, that will:
Require LEC meetings to be open to the public, and have the meetings publicly posted;
No longer allow elected officials to serve as members of the LEC; and
Provide the LIG with subpoena power to investigate ethics complaints against members of the Illinois General Assembly.
"One of the major issues our Caucus focused on last year was attacking government corruption, and we took a major step toward rooting out the kind of unethical behavior and deception that plagues the Capitol. More common-sense reforms are needed, however. Illinoisans deserve an accountable and transparent government," Tracy said. "The LEC should conduct its business in a public forum, and its members should not be elected officials. We are also seeking to give the LIG the tools to independently and effectively investigate allegations of ethical misconduct against state lawmakers."
Sen. Tracy also serves as Chair of the Senate Ethics Commission, and a member of the Senate Ethics Committee.