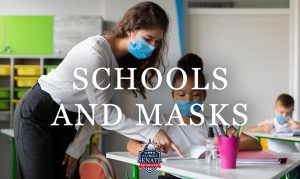 SPRINGFIELD – State Sen. Jil Tracy (R-Quincy) issued a statement reacting to a plan announced Feb. 9 by Gov. JB Pritzker updating mask mandates in Illinois.
Pritzker said his Administration's statewide indoor mask mandate will be lifted Feb. 28, but the state intends to continue masking requirements in P-12 schools subject to pending litigation, which impacts a number of schools. The end of the indoor mask mandate will also not apply to healthcare settings like nursing homes, long-term care settings, hospitals, and doctors' offices.
"It's good to hear that COVID-19 cases are declining to a point that indoor mask mandates will be lifted in a few weeks in certain public areas, but the rest of the Governor's message is mixed. The Governor expressly said the lifting of his indoor mask mandate will NOT apply to school settings in Illinois; however, the Governor will eliminate mask mandates in public areas like grocery stores and museums. We all want our children and school personnel to be safe and continue in-person school learning. But where is the logic that a child must be masked in school, but not at a big-box store?
When Gov. Pritzker initially issued a mask mandate for Illinois schools, he did not consult with lawmakers, local school boards, or local Health Departments. He handed down yet another mandate. He continues to say that science drives his decisions, but it defies logic to lift a mask mandate for adults and not for children. It certainly appears that this was done for political, not science-based reasons."
Tracy said she has never been in favor of statewide mandates and has always advocated for local control. Illinois is about to enter a third year of Gov. Pritzker ruling unilaterally through Executive Orders and statewide mandates.