Legislation seeks to provide transparency and opportunity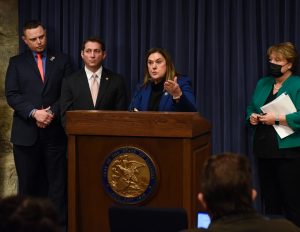 Springfield, IL — Noting the importance of a strong education system for the future of the state, the members of the Illinois Senate Republican Caucus are working to advance legislation that promotes greater transparency and accountability, and offers hope for struggling students.
The Senators' legislative package aims to empower parents with new bills designed to allow them greater access to school curriculums and a voice in statewide educational decisions.
The first bill, Senate Bill 4180, adds five new positions to the Illinois State Board of Education. Currently, all members of the state board are appointed by the Governor, meaning the individual members aren't held directly accountable to voters. Those members make far-reaching decisions on school curriculums, health and safety requirements, and how mandates affect schools.
The new legislation creates one board member per judicial district, elected by voters and thus directly accountable to families in local districts.
"The Illinois State Board of Education, whose members are hand-chosen by Governor Pritzker, sets rules and standards for all public schools. Unfortunately, this system minimizes the voices of families, doesn't provide any sort of accountability to the public, and creates a situation where members are more beholden to the Governor than Illinois families. That's not right," said State Sen. Terri Bryant (R-Murphysboro). "Parents of our state deserve to have a voice in the education of their children. One of the ways we can begin to give them back their voice is to allow for the public to choose the individuals that are making crucial educational decisions on behalf of our children."
Another bill, Senate Bill 4179, is designed to bring sunlight to school curriculums. The legislation requires school districts to publicly post on the district's website, at least twice per year, all the learning materials and activities used for student instruction, as well as the policies and procedures for review and approval of the materials and activities.
"As parents, we ought to have the ability to see exactly what is being taught in the classroom, which can not only impact the educational success of students, but the people that they become," said State Sen. Neil Anderson (R-Andalusia). "This legislation would bring much-needed transparency without forcing parents to jump through hoops to find out what their child is learning. By viewing the curriculum, parents will have the opportunity to better decide if it suits their child's academic needs."
The GOP Senators are also working to strengthen and improve the state's "Invest in Kids" program, which provides scholarships to help low-income students in struggling school districts. The scholarships are funded by private donations, encouraged by a tax credit program for donors.
Currently, the program is scheduled to end. New legislation, Senate Bill 4181, eliminates the expiration date, ensuring that the program would continue.
Under current rules, students who receive a scholarship one year aren't guaranteed to be able to receive assistance the next year. The Senators' legislation creates a preference for existing students when determining award recipients.
"Illinois' Invest in Kids program provides tuition for a private education, giving low-income students in struggling schools an opportunity for a better educational outcome. Invest in Kids has already been the source of many success stories, but the program is set to expire. Extending the program will provide a real choice to families," said State Sen. Jil Tracy (R-Quincy). "We are also looking to offer some stability for students, by creating a funding preference for those currently participating in the program, thus providing educational stability for them and their families."
The final piece of the legislative package, Senate Bill 4182, updates the Invest in Kids Program's tax credit language to better align it with existing federal tax credits, allowing donors to maximize existing federal tax benefits while channeling more private funds into scholarships for under-privileged children.
"This program is making a difference for at-risk students every day. It's vitally important that we protect it and help it to grow," said State Sen. Jason Barickman (R-Bloomington). "The changes we are proposing will help ensure a solid foundation for the scholarship program so that it can continue to provide better educational opportunities for students."
The Senators unveiled their package of education proposals at a press conference at the Illinois Capitol on Feb. 24.