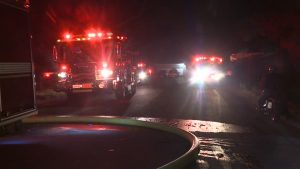 SPRINGFIELD – Volunteer emergency workers could receive a new income tax credit with legislation sponsored by State Sen. Jil Tracy (R-Quincy) and State Sen. Neil Anderson (R-Andalusia) and passed by a unanimous vote of the Senate on Feb. 23.
Senate Bill 3027 creates a $500 income tax credit for volunteer firefighters and emergency workers, effective for the 2023 tax year.
"A number of communities in west-central Illinois rely on the selfless service of volunteer emergency workers," Tracy said. "This legislation would provide a small token of our appreciation for these brave men and women who work so hard to help and protect their fellow residents. We are inspired by their courage and dedication."
Anderson sees firsthand how important volunteer services are, with more than a decade of service in the Quad Cities as a professional firefighter.
"People's lives have changed, and volunteer department numbers are down," said Anderson. "If we can find a way to attract more volunteer emergency workers with a little incentive, it is something this small that could play a big role in saving someone's home or their livelihoods. My hope is this bill will help increase and maintain retention rates for volunteer departments who already see greater challenges because of less resources. They deserve this kind of support, and I am glad we were able to get it done in a bipartisan manner in the Senate."
To qualify for the income tax credit created in Senate Bill 3027, a volunteer emergency worker may not receive compensation for his/her services of more than $10,000 for the taxable year.
Senate Bill 3027 has moved to the House of Representatives for further consideration.