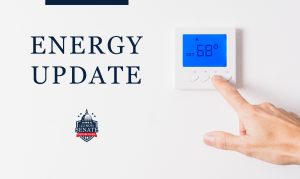 QUINCY – State Sen. Jil Tracy (R-Quincy) is working to help western Illinois utility customers who are being hit with higher bills this summer because of recent increases in electric rates.
Tracy is the chief cosponsor of a three-piece legislative package – Senate Bills 4215, 4216 and 4217 – that will help ensure Illinois' high-energy production remains intact.
"As Illinois is a top energy producer AND a top energy consuming state, we need protections in place for our energy production, grid capacity, and consumption systems," Tracy said. "We are proposing proactive measures that focus on preventing future utility price spikes and/or rolling blackouts throughout our state by securing Illinois' energy-producing capabilities."
Senate Bill 4215 would repeal the forced 2045 closure date for coal and natural gas power plants implemented under Gov. JB Pritzker's Climate and Equitable Jobs Act (CEJA) of 2021. The new legislation would also allow companies to build new gas "peaker" plants – which generally run only when there is a high demand for electricity – without the fear of a forced closure.
Senate Bill 4216 would repurpose $10 million from fees assessed to fund clean technology for retrofitting coal and natural gas plants with carbon capturing technology. It also creates a new Power Grid Task Force to study the effect of state laws, including CEJA, on energy prices and grid reliability. The Task Force would also study ways to improve the power supply mix within the state and deployment of new technologies.
Senate Bill 4217 would eliminate "red tape" at the Illinois Environmental Protection Agency (EPA) that has been preventing new power plants from coming online in a timely manner by expediting the state permitting process. The Lincoln Land Energy Center in Pawnee, for example, started the permitting process with the Illinois EPA in 2017 with a goal of finishing construction by 2022. The power plant is still waiting for the approval of its final construction permit, which it filed with the Illinois EPA more than seven months ago.
"There needs to be a middle-ground when it comes to our transition to cleaner energy. Instead of shutting down power plants, how about we work to retrofit them in a way to eliminate carbon emissions," Tracy said. "We must also do more to make sure Illinois' permitting process does not bog new projects down, to the detriment of our energy systems and their customers."
As recent electric rate hikes are impacting western Illinois utility customers, Tracy is recommending individuals check out financial assistance programs. Information about that assistance and the rate hike can be found at https://senatorjiltracy.com/2022/07/26/ameren-electric-rate-increase-frequently-asked-questions/.