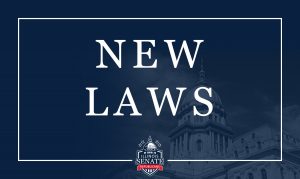 As the New Year is ushered in, 195 new laws that cover a wide range of content areas and affect Illinoisans in a variety of different ways will take effect on Jan. 1, according to State Sen. Jil Tracy (R-Quincy).
Here is a compiled list of a few of the more noteworthy and impactful laws soon to take effect.
ELIMINATION OF CASH BAIL AND OTHER PROVISIONS OF THE SAFE-T ACT
Sen. Tracy says legislators approved the SAFE-T Act in the final hours of a "lame-duck" session of the Legislature in January 2021. While some provisions have already taken effect, many will be mandated as of Jan. 1, 2023.
Perhaps the most controversial element of the SAFE-T Act, the elimination of cash bail, takes effect across Illinois on Jan. 1. Opponents, including the Senate Republican Caucus, believe the sloppily written law puts law enforcement and public safety at risk and does not give judges enough discretion to be able to keep violent offenders behind bars as they await trial.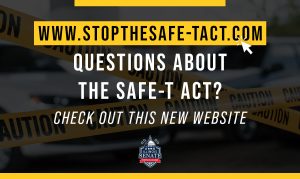 Other provisions of the SAFE-T Act that take effect on Jan. 1, 2023, include:
Anonymous complaints
Whereas previous complaints against police officers had to be signed by the complainant, as of Jan. 1, any person can file an anonymous complaint against a police officer with the Illinois Law Enforcement Training and Standards Board (ILETSB).
Resisting or obstructing a peace officer changes
A trailer bill to the original version of the SAFE-T Act passed earlier this year made some clarifications to the area of the law relative to "resisting or obstructing." For resisting, there now must be an underlying offense for which the person was initially subject to arrest. For obstructing, there does not need to be an underlying offense.
No custodial arrests on Class B and C misdemeanors
Beginning in January, law enforcement can no longer arrest individuals accused of traffic offenses and Class B and Class C criminal misdemeanors when the accused person poses no threat to the community or any person. In these cases, officers will only be able to issue a citation. Examples of this new provision would be Peeping Toms and individuals who engage in criminal trespassing at a residence. Under the new provisions, only a citation can be given.
Body camera mandates
Body camera mandates are taking effect on a tiered schedule according to the size of a jurisdiction. In the original schedule, municipalities, and counties with populations between 100,000 and 500,000, body cameras were to be required on Jan. 1, 2023. However, in the latest trailer bill, HB 1095, local governments of that size now have until July 1, 2023, but only if they ordered their cameras by Oct. 1, 2022.
MOTOR FUEL TAX INFLATIONARY INCREASE (Delayed from July 1, 2022)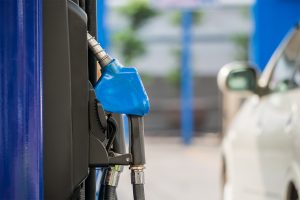 A temporary "freeze" to the motor fuel tax will be over almost as quickly as it began. Sen. Tracy says while legislators had an opportunity in 2022 to provide real, permanent gas tax relief, the Majority Party chose instead to temporarily suspend the statutory July 1, 2022, inflationary increase to the motor fuel tax. The six-month, politically motivated suspension ends just a short time after this year's General Election. As a result, Illinoisans will get hit with two motor fuel tax hikes in 2023— the temporarily suspended increase on Jan. 1, 2023, which will be 3.1 cents, and then the normal July 1, 2023, inflationary increase.
MINIMUM WAGE
The annual increases in the state's minimum wage continue, and on Jan. 1, 2023, the minimum wage for most workers will increase to $13 per hour. The minimum wage for those who receive tips for their work (i.e., restaurant servers) will raise to $7.80 per hour, and the wage for those younger than the age of 18 who work fewer than 650 hours per year will increase to $10.50 per hour. Annual increases continue until Jan. 1, 2025, when the minimum wage hits $15 per hour.
CRIMINAL LAW
Protecting Child Sex Victims
House Bill 4593 (102nd GA)
Prevents those who solicit for sex from simply claiming they did not know that the individual was an underage minor as an affirmative defense to avoid punishment. The new law places the burden on the exploiter to prove they didn't know the age of their victim, rather than the burden on the victim and prosecutor.
Closing a Loophole in "Informed Consent"
House Bill 5441 (102nd GA)

This year, the Legislature passed a bill that closes a loophole in the Criminal Code by expanding the legal definition of consent involving sex with an intoxicated person. It will now be a crime to engage in sex with a person who is too intoxicated to knowingly give consent, even if the accused person did not provide the intoxicating substance.
Keeping Sex Offenders Away from Children
Senate Bill 3019 (102nd GA)
Today, convicted sex offenders are prohibited from residing within a prescribed distance from schools and parks. Through legislation passed this year, these convicted criminals are also prohibited from being employed by or associating with any community, county, or state fair, amusement park, or carnival when children are present.
Addressing the Spike in Carjackings and Vehicle Thefts
House Bill 601, House Bill 3699, House Bill 3772 (102nd GA)
Three bills were signed into law this year that seek to address a spike in carjackings and vehicle thefts in Illinois.
One new law expands the offense of "possession of burglary tools" to include possession of a device that unlocks or starts a vehicle without possession of the key or fob, or which captures a duplicate signal from a key fob to unlock or start a vehicle. A second new law provides grants and financial support to assist in the identification, apprehension, and prosecution of car hijackers and the recovery of the stolen vehicles. A third new law ensures those who are victims of a carjacking are not liable for violations, fees, fines, or other penalties, including towing costs, if the vehicle owner files a police report in a timely manner.
Expanding the List of "Mandated Reporters"
Senate Bill 3833 (102nd GA)
To help ensure prompt intervention in cases of child abuse or neglect, physical therapists and PT assistants, occupational therapists and OT assistants, and athletic trainers will be added to the list of mandated reporters.
EDUCATION
Improved Learning Standards for Driver Education
House Bill 4716 (102nd GA)
Prospective new teen drivers will face more rigorous classroom and laboratory standards for their driver education classes through a new law that updates standards.
Addressing the Substitute Teacher Shortage
House Bill 4798 (102nd GA)
Legislators took action to address a critical substitute teacher shortage across the state by expanding eligibility for Substitute Teaching Licenses to include college students enrolled in an approved educator preparation program who have earned at least 90 credit hours toward their degrees.
HEALTH CARE
Alzheimer's Education
Senate Bill 3707 (102nd GA)
To provide better care for patients with Alzheimer's disease and dementia, a new law will require specific education on Alzheimer's and dementia, safety risks, and effective communication to be included in annual training for all Community Care Program providers.
HIGHER EDUCATION
Human Services College Loan Repayment
Senate Bill 3925 (102nd GA)
To help recruit, retain, and drive more people toward careers in the human services sector, the Human Services Professional Loan Repayment Program Act can provide (subject to appropriation) student loan repayment assistance to those who agree to practice post-graduation in a community-based human services agency that contracts with or is grant-funded by a State of Illinois agency.
Benefits Navigators at Public Universities
House Bill 4201 (102nd GA)
Beginning Jan. 1, public university and community college students will have access to trained individuals who can help them identify and apply for financial assistance or other benefits. A Benefits Navigator will identify students in need and help them determine eligibility for any federal, state, or local assistance or benefits based on their financial need.
HUNTING
Expanding the list of allowed firearms that can be used for deer hunting
House Bill 4386 (102nd GA)
For the first time, sportsmen and women who enjoy deer hunting will be able to use a single shot centerfire rifle to harvest deer during the firearm open season. Per the new law, only straight walled rifle rounds may be used in centerfire rifles. Until now, only shotguns could be used during deer firearm season.
INSURANCE
In 2022, several bills were passed and signed into law that expand insurance coverage for specific screenings and health conditions. Beginning in the New Year, insurance companies must provide coverage for:
Prenatal vitamins when they are prescribed by a physician,
Prostate cancer screenings with no co-pay required,
Medically necessary Continuous Glucose Monitors for those diagnosed with Type I or Type II diabetes, and
Genetic testing to detect an increased risk for breast and ovarian cancer if the tests are recommended by a health care provider.
Additionally, "home health services" must now be covered for the duration of medically necessary care.
STATE GOVERNMENT
New Designations for Illinois
Legislators continued to celebrate the uniqueness of the Land of Lincoln through a series of new state designations of Illinois' special features.
Dolostone, a fine-grained sedimentary rock like limestone, will now be known as the official State Rock. It is quarried in Illinois and when crushed, it is widely used as a construction aggregate and road surfacing material.
The Eastern milk snake, which can be found in Central and Northern Illinois and averages 24-43 inches in length, was dubbed as the official State Snake in 2022. This reptile can be found in fields, woodlands, rocky hillsides, and river bottoms. It hides under logs, rocks, and boards.
TRANSPORTATION
Enhancements to Specialty License Plates
The Legislature approved several additions and enhancements to the state's specialty license plate program in 2022. Beginning on Jan. 1, money generated from the sale of the Illinois Police Association plate can be used for providing death benefits for the families of Association members who die of natural causes, and scholarships for their children and spouses.
Another piece of legislation expands the list of military family members who can obtain Gold Star license plates to include widows, widowers, parents, children, stepchildren, adopted children, brothers and sisters, half brothers and sisters, siblings, daughters, and sons of those who served in the Armed Forces and lost his or her life while serving in peacetime or war.
A third new law provides for a Future Farmers of America (FFA) plate decal and creates a fund through which proceeds from the decal will be used for grants to the Illinois Association of FFA.
Fee Reduction for Illinois-Made Vehicles
Senate Bill 3609 (102nd GA)
Those purchasing a car or small truck manufactured in the State of Illinois will enjoy a cost break beginning in 2023, when registration fees for Illinois-made vehicles drop by $25.