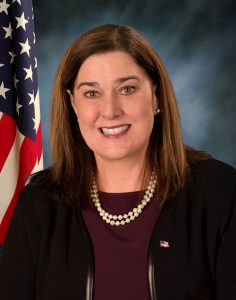 SPRINGFIELD – State Sen. Jil Tracy (R-Quincy) was sworn in as State Senator for the new 50th Senate District during inaugural ceremonies in the historic Old State Capitol in Springfield, as the 103rd General Assembly convened Jan. 11.
Illinois Supreme Court Justice Joy V. Cunningham administered the oath of office to Sen. Tracy and her Senate colleagues. Sen. Tracy has served in the Senate since Jan. 11, 2015, and previously served as a member of the House of Representatives from July 2006 to 2014.
"The convening of a new two-year General Assembly is a time to learn from the past, renew our commitment to face current challenges, and welcome the opportunities awaiting Illinois," Sen. Tracy said. "Make no mistake. Lawmakers have our work cut out for us, and some of the decisions will be tough. It is my hope that Senate members decide now to work together rather than getting mired in partisan bickering."
Sen. Tracy says bipartisan pension reform, balanced budgets, and common-sense economic growth initiatives continue to be her immediate legislative priorities to help boost jobs and bring economic prosperity to Illinois communities.
The new 50th Senate District includes all or part of Adams, Brown, Calhoun, Cass, Greene, Jersey, Macoupin, Madison, Morgan, Pike, Schuyler, and Scott counties.
Sen. Tracy's legislative offices are located at 3601 East Lake Centre Dr., Suite 200, Quincy, IL  62305 (217-223-0833) and 325 W. State St., Suite 102, Jacksonville, IL  62650 (217-223-0833). Her office in Springfield is located at 208 Capitol Building, Springfield, IL  62706 (217-782-2479). Her e-mail address is senatortracy@adams.netand her Web site is senatorjiltracy.com.