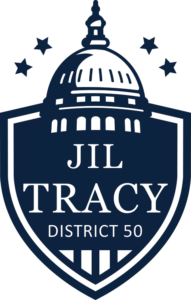 State Sen. Jil Tracy (R-Quincy) has been asked to serve as Republican Spokesperson on one Senate Committee and as a member of five other Senate Committees for the 103rd General Assembly.
The 50th District Senator serves as Spokesperson for the powerful Judiciary Committee, and is a member of the Labor, Executive, Higher Education, Appropriations (Education), and Veterans Affairs committees. She also serves on the Legislative Ethics Commission.
"These Senate committees allow me to steer crucial conversations and initiatives toward bettering the 50th District and the state. Illinois faces challenges on many fronts. After years of Democratic leaders' irresponsible fiscal planning, we have some tough decisions ahead," Tracy said. "This session will help determine if Republican leaders can promote an alternative approach to the current tax-and-spend approach that continues to pick Illinois taxpayers' pockets. We need to turn things around and get Illinois headed in the right direction, and we need to make sure hard-working families have a strong voice in all discussions."
On Jan. 11, Tracy was reappointed to the leadership post of Senate Republican Whip. In that role, she will work closely with the rest of the Leadership team on guiding legislation and setting policy.
As the State Senator for the 50th District, she represents all or part of Adams, Brown, Calhoun, Cass, Greene, Jersey, Macoupin, Madison, Morgan, Pike, Schuyler, and Scott counties.