Advocate for legislation to make Illinois a better place to live and work
SPRINGFIELD – The misplaced priorities of Democratic leaders are hurting Illinoisans, according to State Sen. Jil Tracy (R-Quincy) who says Senate Republicans have offered alternatives that would provide citizens with much-needed relief from current economic pressures and safety concerns in their communities.
"The challenges of the last couple of years have been particularly devastating for Illinois residents on many levels," Tracy said. "The priorities of the Majority Party, as well as their inaction to address so many troubling issues, are hurting our most vulnerable citizens, as well as everyday families who are trying to make ends meet."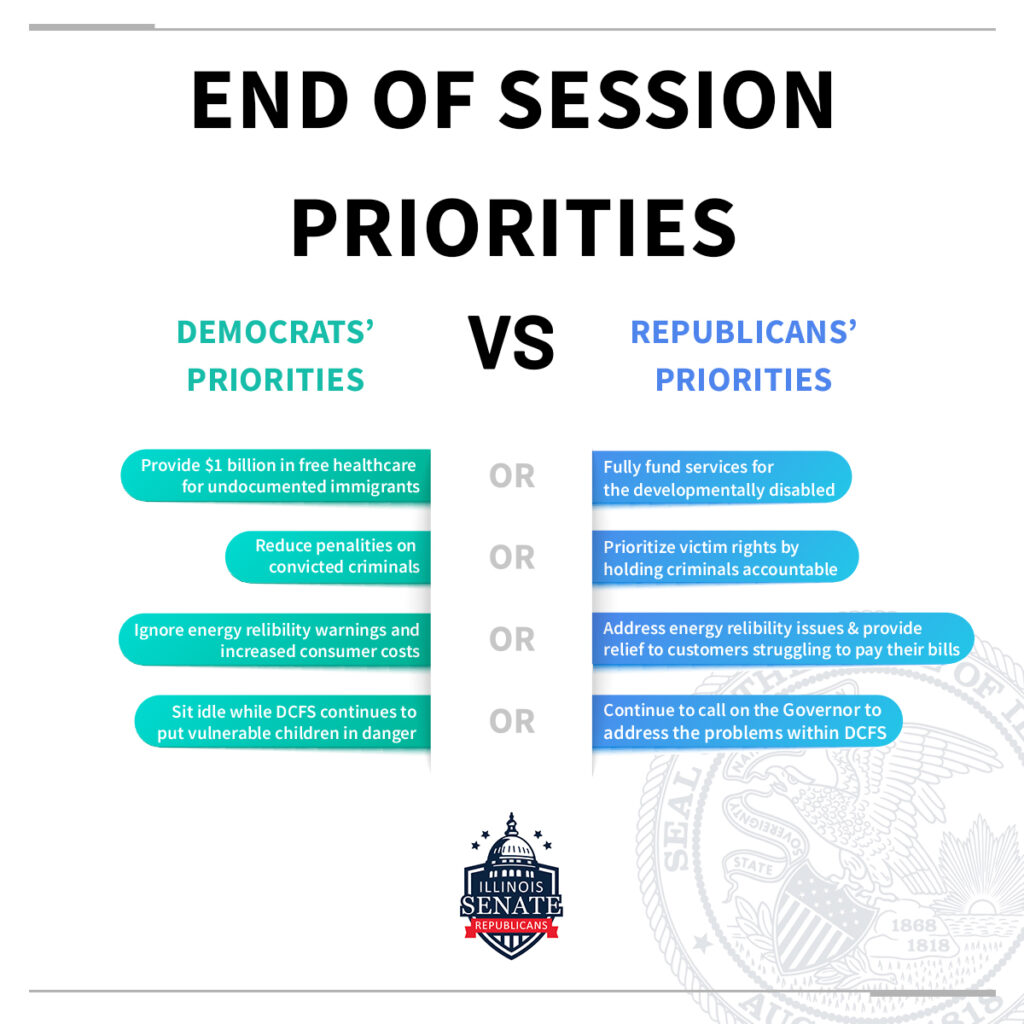 Tracy joined State Senators Neil Anderson (Andalusia), Dave Syverson (Cherry Valley), Jason Plummer (Edwardsville), Craig Wilcox (McHenry) and Tom Bennett (Gibson City) in a Capitol press conference May 4 to advocate for alternative solutions to the tax-and-spend priorities of the Majority Party.
"Parents are struggling to find affordable and reliable childcare. Programs for persons with developmental disabilities are drastically underfunded while the Majority Party wants to spend more than a billion dollars on healthcare for undocumented immigrants. A state program to provide $200 million in relief for Ameren customers is not funded but Democratic leaders want to focus on banning gas stoves and gas cars," Tracy said. "And despite repeated calls from our Caucus over the last several years, it seems little is being done to correct serious concerns about the safety of the children who DCFS is supposed to protect."
With just two weeks left in the spring legislative session, Tracy says Senate Republicans hope to see bipartisan progress on these critical issues to improve the lives of people of all ages and in all stages of life who call Illinois home.
"We have many concerns about the direction Illinois is heading. Recent IRS reports show that 105,000 people left our state last year, and this trend is likely to continue if we do not get Illinois' priorities back on track," Tracy said. "We need to focus on policies that make Illinois a better place to live and work."