SPRINGFIELD – As the "no cash bail" provisions of Illinois' controversial SAFE-T Act take effect Sept. 18, State Sen. Jil Tracy (R-Quincy) says the new law's fiscal impact on local court services and victims' resources will likely be shouldered by property taxpayers.
In other news, it's Suicide Awareness Week and the 988 Suicide and Crisis Lifeline can provide counseling resources to help those in crisis.
The Illinois State Board of Education is asking the public to nominate outstanding educators, administrators, or school professionals who have made a difference in students' lives.
And the Illinois State Police are encouraging safe driving practices during the agricultural harvest season.
Illinois becomes first state in nation to eliminate cash bail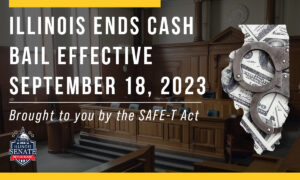 Illinois' SAFE-T Act has been highly criticized by the public, law enforcement, and state's attorneys since it was forced through the Legislature on the final day of the 2021 lame-duck session.
The "no cash bail" provisions of the law are set to take effect statewide on Sept. 18, making Illinois the first state in the nation to do away with the system completely. Effective Sept. 18, Illinois will replace its current cash bail system with a new set of strict standards that prosecutors must meet to be able to detain certain offenders.
Tracy says she opposed the SAFE-T Act when it passed the General Assembly because the law fails to provide judges enough discretion to be able to keep the public safe. She also notes that the new law fails to address the fiscal impacts that the elimination of cash bail will have on counties and victims' services.
Eliminating cash bail, without identifying another funding source for counties, will impact local courts' ability to function. The "no cash bail" provision completely ignores the fiscal hit on local courts systems that are now going to have to make up that revenue on their own. Leaving a gap in funding for local courts and critical victims' services could soon force counties to reduce services, raise taxes or both.
Tracy says lawmakers must address this issue during the upcoming fall veto session to make sure Illinois' local court systems have the fiscal resources they need and that victims can continue to receive the support they deserve.
Dial 988 offers help for individuals in crisis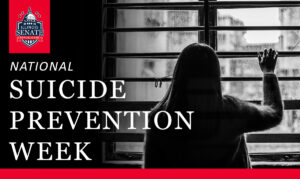 September 10-16 is National Suicide Prevention Week, and individuals in crisis can now call or text the 988 Suicide & Crisis Lifeline at any time to connect with a trained crisis counselor.
As of July 16, 2022, all calls and text messages to "988" route to a 988 Suicide & Crisis Lifeline call center, which provides free and confidential support for people in distress 24 hours per day and seven days per week. More information about the 988 hotline is available here.
National Suicide Prevention Week is an annual campaign to inform and engage health professionals and the public about suicide prevention and warning signs of suicide.
Nominate outstanding school personnel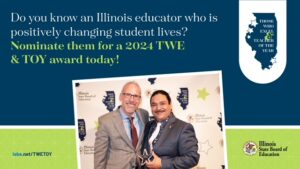 The Illinois State Board of Education (ISBE) wants to know more about outstanding educators, administrators, or school professionals.
ISBE will be accepting applications until Oct. 15 for the 2024 Those Who Excel & Teacher of the Year Awards.
Awards are presented in seven categories: classroom teachers, early career educators (teachers 1-4 years), school administrators, student support personnel, educational service personnel, community volunteers, and teams.
ISP encourages traffic safety during harvest season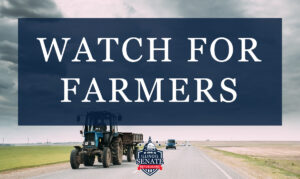 National Farm Safety and Health Week begins Sept. 17, and the Illinois State Police (ISP) is reminding motorists and farmers about traffic safety during the fall harvest season, which typically begins in early September and can last into November.
As farmers are traveling between fields, ISP is asking motorists and farmers to share the road to help reduce crashes involving tractors, implements, and other farm equipment.
ISP is encouraging motorists to
Allow extra travel time during harvest season.
•           Don't pass until it's safe and legal to do so.
•           Use extra caution around tractors and slow-moving vehicles.
•           Adjust to a greater following distance to increase sight lines when following behind wide, slow-moving vehicles.