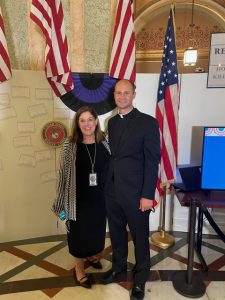 SPRINGFIELD – A ceremony hosted by the Senate Republican Caucus in the Capitol on Aug. 31 brought together dozens of people to remember and honor the lives lost in Afghanistan and those individuals left behind.
State Sen. Jil Tracy (R-Quincy) says the "Honoring the Fallen" ceremony noted that Aug. 31 marks the deadline set for pulling American troops out of Afghanistan.
"After 20 years of our troops serving in Afghanistan to help its residents find some measure of peace and stability, it is fitting to take a moment on this day when our service men and women end their official involvement in that embattled country," Sen. Tracy said. "We remember the thousands of people who have worked so hard to make a difference, and given so much, especially the many who sadly lost their lives in their service."
Sen. Tracy says her son, Father Mark Tracy, Chaplain with Army National Guard and pastor of Holy Family parish in Decatur, said a prayer to close the ceremony.
Presenting remarks at the ceremony in the Capitol Rotunda were Leader Dan McConchie and Deputy Leader Sue Rezin. A moment of silence was observed to honor all of those who have died over the past two decades in Afghanistan.