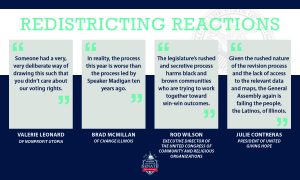 SPRINGFIELD – State Sen. Jil Tracy (R-Quincy) says Democrat leaders continue to choose political power over the will of the people by once again not allowing sufficient public input into revised legislative maps submitted Aug. 31.
"What we are seeing now is the same process, but all the worse for ignoring AGAIN the voting rights of the people of Illinois. The Democrats and Gov. Pritzker are choosing power over people, whatever the cost," Tracy said. "They have the opportunity to provide the time and transparency that witnesses are seeking. Instead, by rushing through another unconstitutional map without public input, Democrat leaders are doing whatever is needed to ensure they can pick their voters."
Approved by a 40-17 partisan vote of the Senate and a 73-43 partisan vote of the House of Representatives, Senate Bill 927 will be sent to the Governor for his consideration.
The first set of legislative maps were forced through the General Assembly in May and hurriedly signed into law by Gov. JB Pritzker, despite his earlier pledge to veto any such partisan-drawn map. They used American Community Survey (ACS) data instead of more accurate federal Census data.
"The first round of maps were flawed in that they did not use Census data. Instead, the Majority Party used ACS data, which is proven to be flawed and only accounts for one percent of the population. Redistricting is supposed to be based on demographic changes as revealed by the Census, not insufficient and thus inaccurate polling data," Tracy said.
The release of Census data in mid-August made it clear that the Democrats' partisan legislative maps are not constitutional. Legislative districts are supposed to be roughly equal in population, but they don't have to be exactly the same. According to previous rulings from the United States Supreme Court, the maximum deviation from the most-populated to the least-populated districts is capped at 10 percent. Newly-released census data plugged into the first set of maps shows deviations between districts as high as roughly 30 percent, three times the limit allowed.
Serious questions have also been raised about whether lawmakers can make changes to the maps at this point. The Illinois Constitution requires a map to be in effect (passed by lawmakers and signed by the Governor) by June 30. After that date, the authority to draw a map falls to a bipartisan redistricting commission.
Tracy says that a bipartisan commission would enable all sides to work together to put together legislative maps that better protect the voices of communities across the state.